Leadership in Fleet Safety
Balfour Beatty is a leading engineering and infrastructure group that operates across the UK, US and Far East. Balfour Beatty is divided into 4 main businesses:
UK Construction
US Construction
Investments
Utilities & Rail
We finance, develop, build and maintain innovative and efficient infrastructure that underpins daily life, supports communities and enables economic growth. Balfour Beatty has worked on a breadth of projects including road and rail; airports, seaports, tunnels and bridges; health and education facilities; heat, light, power and water; places to live and places to work. With more than 100 years of experience, our expertise and innovation has led the way in developing highly complex infrastructure projects.
Balfour Beatty's fleet profile is made up of around 3,500 cars, 750 Large Goods Vehicles, and 2,000 Light Commercial Vehicles.

Our workforce is circa 14,000 direct employees, excluding joint ventures, of which 9,500 are designated as driving on company business, 1,650 of those using their own vehicles (grey fleet), with a further 2,500 non-direct drivers, JV partners and nominated partners/spouses. This means that Balfour Beatty is managing the road risk of around 12,000 drivers.
Leadership in fleet safety
"Within Balfour Beatty, we are passionate about safety and our Zero Harm ethos. Indeed, Zero Harm is one of the four pillars of our Build to Last Balfour Beatty principles. With over 6000 vehicles in our company fleet in the UK, safe driving is fundamental to the way we operate and we pride ourselves in leading the industry in a whole range of innovative vehicle and behavioural programmes. We are active members of the FORS scheme and constantly modernise our fleet of vehicles in order to provide the most efficient and sustainable fleet for our drivers. We also have an award winning risk-based Permit to Drive behavioural programme and at the end of last year I was very proud to receive the commercial fleet of the year award on behalf of the business, recognising the efforts that Balfour Beatty go to in order to maximise driver safety."
Andy Ormerod, Managing Director at Plant & Fleet Services, Balfour Beatty
"There is nothing more important to our business than keeping our people and members of the public safe. We are continually striving to ensure that our vehicles and the training programmes we provide achieve the highest possible standards and we are delighted that it is recognised across the industry that we are leaders and influencers."
Eric Renfrew, Fleet Director at Plant & Fleet Services, Balfour Beatty
Our Beginnings
From our beginnings in 1909 we have grown to become an international business operating in emerging and mature economies alike. We are one of the few companies with the skills to deliver complex projects of huge scale and take advantage of the growth in long-term infrastructure markets.
Our impact is in iconic structures, bold engineering feats, behind-the-scenes innovation and joined-up thinking, financing and partnerships that make up the world's great infrastructure projects today.
The combined breadth of our capabilities and depth of our technical expertise makes us a true international leader in infrastructure. The dedication of our people and the shared values that unite us give our many stakeholders the confidence to trust us and do business with us. We have a collective commitment to operate sustainably and safely wherever we operate.
Safety has always been at the heart of everything that Balfour Beatty do and key to our growth. In 2008 the Balfour Beatty Zero Harm vision was launched.
Our Zero Harm vision:
At Balfour Beatty we believe that our long-term success is dependent upon the ability to keep our workforce, business partners, suppliers, subcontractors, members of the public and the environment safe. Nothing we do is so important, that it cannot be done safely.
Only by setting the highest standards for ourselves, will we be able to retain the trust of our customers and the people using our infrastructure.
For us, Zero Harm means:
No injury, ill health or incident caused by our work activities. Our commitment to Zero Harm is that we will continue to:
Position people, environment and sustainability at the heart of what we do
Act responsibly to protect and enhance the physical and social environment in which we operate
Work with and support our customers with the provision of innovative and effective infrastructure · Treat health like safety
Challenge the norm and promote industry-wide action to eliminate and reduce risks to the safety of everyone
Tackle occupational ill health and protect our environment, by working with others
Continue to have a recognised, influential voice in the industry and be the contractor of choice, with Zero Harm at the core of everything we do.
Elimination of risk is at the forefront of what we do. From winning business through to developing, planning, design, construction and onward into operations and maintenance. It features prominently in the business we pursue, who we work with, how we work, how we measure performance and how we encourage the personal advancement of our employees. This had a profound impact on our driving activities in particular because in 2009 we lost an employee to a driving related road-risk fatality.
The incident highlighted that as good as we thought we were at managing safety within our business, driver related safety was perhaps as not as high profile as it should be. HSE teams believed it to be a Fleet responsibility, Fleet supposed HR manage this and HR assumed HSE were governing along with rest of their duties.
Ownership was needed, to ensure that road-related safety had a platform in our business and so that this tragic event could not be repeated. To support this, the business created a Driver Risk Management (DRM) team, to look at our systems, procedures, policies and manage all aspects of work-related road risk.
Industry Recognition
Our DRM team have also contributed to the success on many awards Balfour Beatty has won:
Driver Training Related Awards
East Midlands Regional Awards – Leadership & People Development – 2008
Fleet Safety Forum – Company Driver Safety – 2009
Fleet Safety Forum – Fleet Services Provider of the Year – 2009
Fleet Safety Forum – Road Risk Manager of the Year – 2009
ROSPA Gold Award – Managing Occupational Road Risk – 2010
Fleet Safety Forum – Road Safety in the Community – 2010
Fleet Safety Forum – Road Safety in the Community – 2011
Fleet Safety Forum – Fleet Safety Analysis & Action – 2011
Midlands Excellence Awards – Learning & Development – 2010/2011
Fleet Safety Forum – Fleet Safety Analysis & Action – 2012
Prince Michael Award – Fleet Award – 2010
Fleet News Awards – Fleet Operator Initiative of the Year – 2011
ROSPA Gold Award – Occupational Health & Safety – 2010
Fleet Safety Forum – Company Driver Safety (Large Fleet) – 2011
Fleet News Awards – Safe Fleet of the Year – 2013
IRM Global Risk Awards – Delivering Value through Risk Management – 2013
Brake Fleet Safety Awards – Safe Partnership Award – 2014
Skills for Logistics – Driver CPC Excellence Award – 2014
Heathrow Ltd Supplier Safety Award – Training Excellence – 2015
Fleet News Awards – Safe Fleet of the Year – 2015
Commercial Fleet Awards – Fleet of the Year, Utilities Sector – 2015
Brake Fleet Safety Awards – Safe Driver Award – 2015
Fleet News Awards – Cost Saving Initiative of the Year – 2016
Commercial Fleet Awards – Fleet of the Year, Construction Sector – 2016
Commercial Fleet Awards – Fleet of the Year, Safety & Compliance Award – 2017
Commercial Fleet Awards – Commercial Fleet Manager of the Year – 2018 – Adrian Wanford
Individual Awards
Fleet Safety Forum – Road Risk Manager of the Year – 2009 – James Burrows
Fleet Van Awards – Fleet Safety Champion of the Year – 2011 – Robert Lindsay
Fleet Safety Forum – The Kevin Story Award – Outstanding Commitment to Road Safety – 2012 – Martin 'Nobby' Clark
Inspiring Safety Awards – Woodward Award – Most Inspiring Individual in Achieving Safety Excellence – HIGHLY COMMENDED – 2012 – Martin 'Nobby' Clark
The Driver Risk Management Team, formed in 2009, put together key figures from our Fleet and Insurance teams to help shape the future of Work Related Road Risk (WRRR) within Balfour Beatty. The first thing the team did was identify the issues:
Who is driving our vehicles?
Where are they being driven?
How are they being driven?
What is our incident rate?
Why are incidents occurring?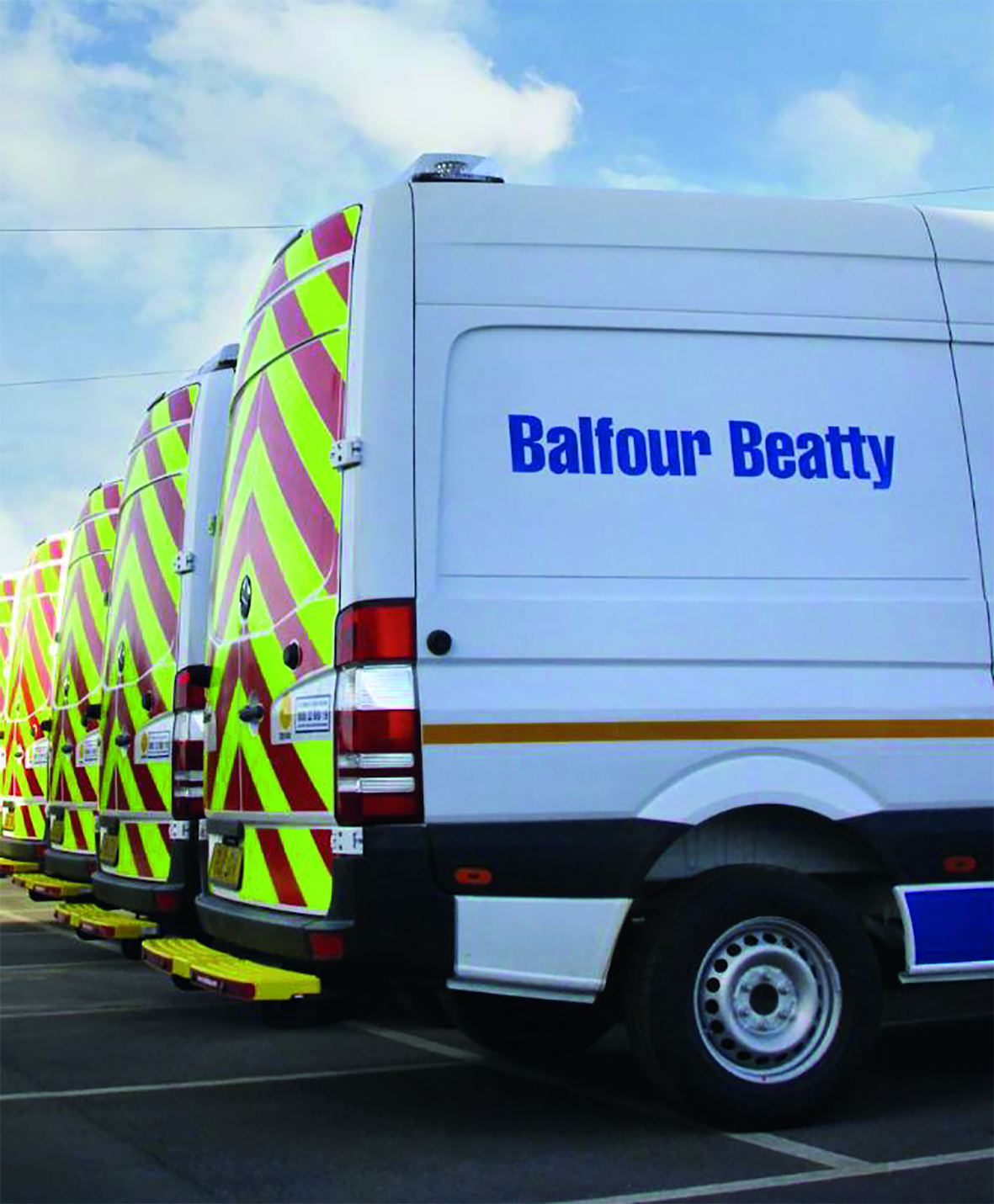 Extensive research was then undertaken with the business to understand these questions and devise innovative solutions to lessen the risk to both the driver and the business. Two key technologies emerged from this research:
Driver Profiling (link to driver profiling page)
Driver Behaviour Telematics (link to intelligent telemetry page)
Click here to read about the performance improvements achieved from the above technologies