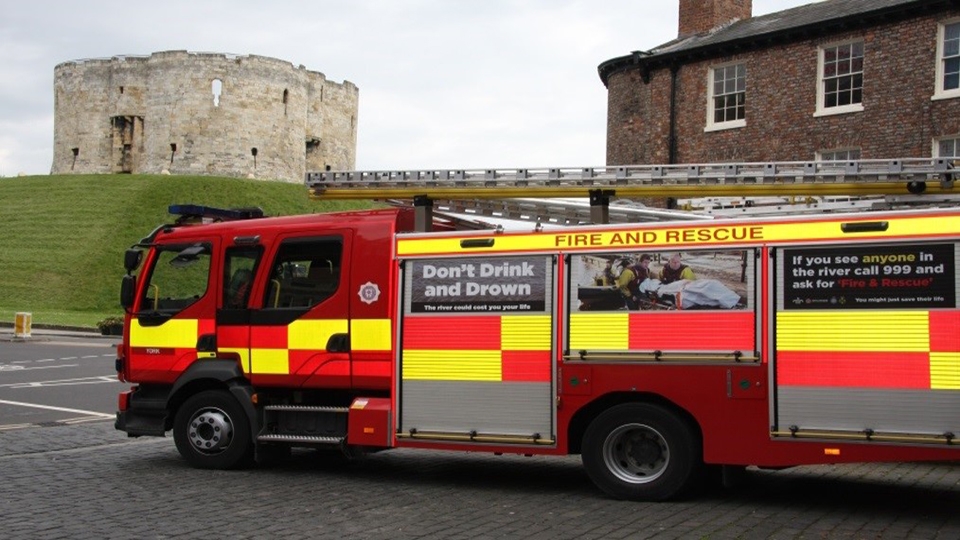 Champion: North Yorkshire FRS
Business Sector: Public Sector Fire and Rescue Service
Fleet Size:
Company Cars: 67
Light Commercial: 48
Heavy Commercial: 67
Company Overview
The North Yorkshire Fire and Rescue Service (NYFRS) covers over 8,280 square kilometres, the largest county and the second largest area of all the English fire services, encompassing the seven districts in the county of North Yorkshire and the City of York. Our role encompasses:
Prevention: covers advice, education and community safety initiatives to reduce the incidence of fires, road traffic accidents and other life-threatening hazards.
Fire Protection: covers the enforcement of fire safety legislation plus statutory and non-statutory consultation concerning fire safety in buildings and workplaces.
Response: covers the immediate response to fire and other emergencies such as road traffic collisions, chemical spillages and flooding.
Sustainable Organisation -The provision of legally compliant and sustainable organisation with the appropriate level of governance.
Sustainable Organisation: The provision of legally compliant and sustainable organisation with the appropriate level of governance.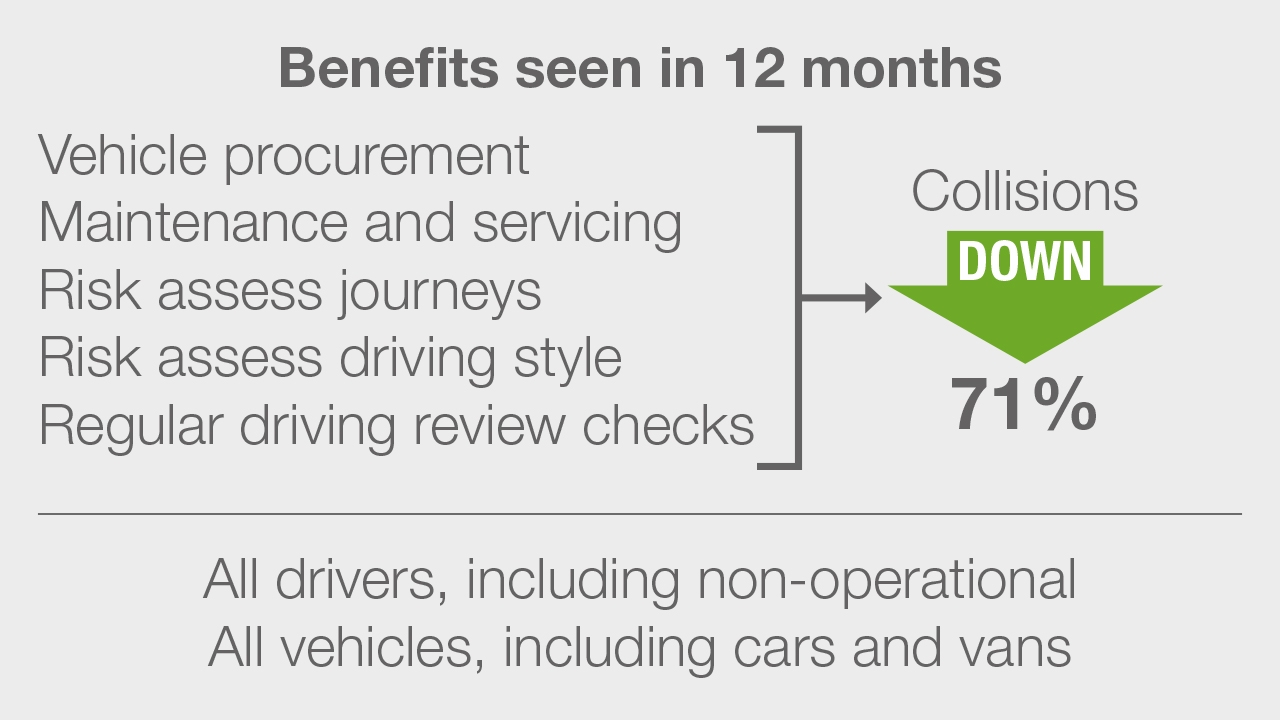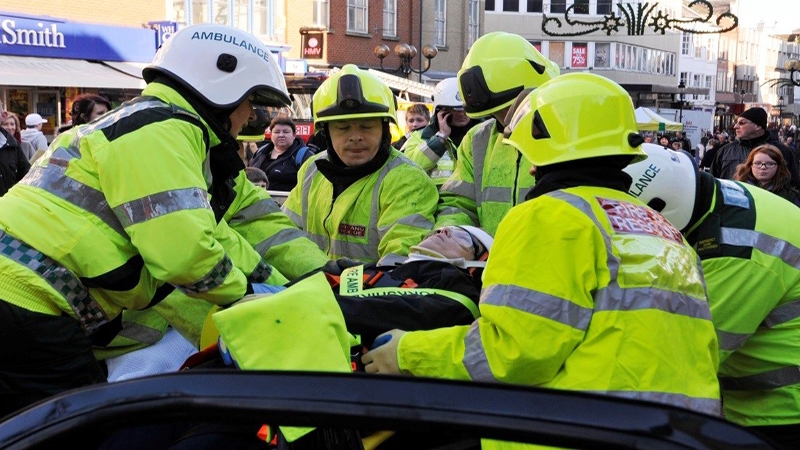 Nature of Operation and Driving Activities
Driving to incidents is one of any Fire Service's biggest risks. Getting fire fighters and support personnel to the scene of an incident safely contributes significantly to the work they carry out once there. This therefore, places work-related road safety high amongst those risks to be managed.
Driving activities within the NYFRS fall in to three basic categories. These are shown below and the requirements placed on all drivers will therefore vary considerably depending on the category of activity:
Driving in support of training activities.
Driving in support of administrative activities.
Driving for operational purposes.
The management of risk to personnel within the NYFRS is based on leadership from the top through all levels of management. It is based on a culture which encourages inquisitiveness and challenges the status quo. It reinforces the aspiration and desire to set and maintain best practice. It encourages a thorough and open investigative process for all incidents.
This ethos is echoed in the following statement from Chief Fire Officer Nigel Hutchinson:

Nigel Hutchinson
Chief Fire Officer and Chief Executive
"My statement of general policy on behalf of the North Yorkshire Fire & Rescue Authority is that I will put in place arrangements ensuring:
Premises that are safe and without risk to health
Arrangements for effective risk management at operational incidents
Safe and well maintained plant, machinery and equipment
Arrangements for the safe use, handling, storage and transport of articles and substances
Adequate facilities and arrangements for welfare at work
Adequate information, instruction, training and supervision
Safe access to and egress from working areas
Safe systems of work are provided and maintained
A safe and healthy working environment and adequate facilities and arrangements for welfare at work."
Health and Safety Committee
The Health and Safety Committee is chaired by the Deputy Chief Fire Officer (DCFO) of NYFRS. The role of the DCFO in this committee underpins the leadership and commitment of top level management to developing an organisation committed to the highest standards of performance in all elements of its operations and activities. These include health and safety.
The Health and Safety Committee consists of department heads and health and safety representatives from the representative bodies. Any and all accident trends are discussed. The purpose of the committee is to identify safety issues which need resolution and to develop a joint approach to managing specific accident reduction strategies.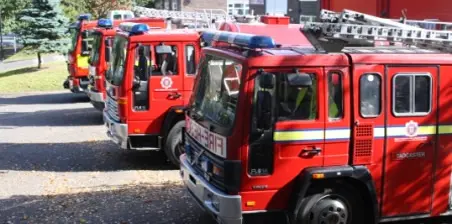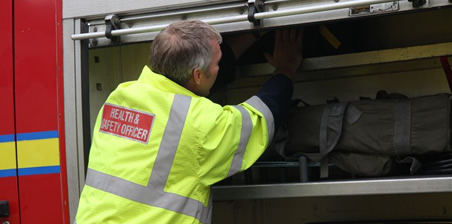 Both personal and vehicle accident statistics are shared with other regional fire service partners (South Yorkshire, West Yorkshire and Humberside Fire Services) and discussed at quarterly regional health and safety meetings. NYFRS is also duty bound to report these statistics to the Home Office.
At these regional meetings the fire services share best practice and discuss joint approaches to any new external guidance. Guidance can also come from within the fire services for instance, from the National Fire Chief's Council (NFCC) health and safety committee.
In response to the high-risk nature of the service it provides and is measured upon, the NYFRS takes a robust and proactive approach to risk management. It reviews its policy and procedures constantly against current best practice. The NYFRS endeavours to keep this risk to a minimum through a strict process of reporting and of investigating vehicle accidents.
The NYFRS lays down clear policy and standard operating procedures to cover all elements of its driving activities. The standard operating procedures cover all the training requirements necessary to induct recruits and to maintain skill levels of serving personnel in detail. The standards for operational and administrative driving are also covered in detail.
A central pillar in this process is the requirement to obey the law, and drivers are also trained to understand where the special duties of the fire service allow flexibility within the law.
NYFRS management is fully involved in monitoring and reviewing all driving activities. Responsibilities for all levels of supervision are clearly defined within the Service. There is an ongoing process of review to ensure that training standards are maintained and raised. This process also allows any deficiencies which are identified to be brought within the management process for resolution.
All NYFRS personnel are trained to drive and operate the vehicles and equipment to which they are assigned.
Work Related Road Safety Policy & Procedures
The NYFRS Health and Safety at Work policy includes a section which lays down its policy for all aspects of driving. The Driving Policy focuses on the management of risk and its implementation is a key activity for NYFRS drivers, supervisors, middle and strategic managers.
The NYFRS is committed to raising awareness of and creating a safety culture in all occupational road risk situations by:
Purchasing the right vehicles and associated equipment to carry out the functions of the roles in the Service.
Adhering to regular maintenance and service schedules.
Implementing safety in all activities.
Providing teaching and practice in defensive driving techniques.
Risk assessing journeys and driving styles.
Undertaking regular driving review checks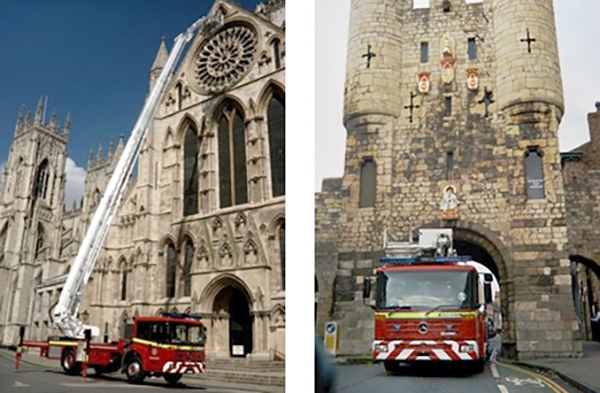 Responsibilities of Drivers
The NYFRS's Driving Policy applies to all personnel who are required to drive its vehicles or lease vehicles as part of their role, including those who use their own vehicle to travel. All such personnel must have received training to standards determined by legislation or by the NYFRS competence requirements prior to driving.
Licence Checking
Each licence is checked by a NYFRS driving instructor, on induction and at the commencement of a driving course. Details are placed in the employee's 'Driver Profile' together with the driving history for each individual. Licences are then rechecked each year at the driver's Personal Development and Performance Review.
Drivers are made aware that failure to declare any details, or to allow their licence to be checked, may result in any driver training or assessment being cancelled or the driver being taken off driving duties until such time as licence details have been confirmed with the DVLA.
NYFRS is committed to raising and maintaining the standards of driving skills and safety awareness of its members through education and training.
As part of the induction process to the NYFRS, all personnel required to drive undertake a vehicle driving assessment and determine subsequent training requirements. Training for individuals to drive NYFRS vehicles and to use trailers and associated equipment is provided mainly by NYFRS driving instructors.
The Training Section carries out checks on all NYFRS emergency response drivers every five years. Non-operational drivers are required to undertake a periodic Complywise assessment named Driving Awareness. This assessment will be annual for higher mileage drivers (over 1,000 miles per annum) and 3 yearly for lower mileage drivers (up to 1,000 miles per annum). The driver will have 2 attempts to achieve the 80% pass mark and failure to achieve a pass will result in the driver being referred to the Driver Training Department for remedial development.
All Large Goods Vehicle (LGV) and Emergency Response Driving (ERD) instructors are registered to the Driving and Vehicle Standards Agency (DVSA) voluntary register for LGV instructors. NYFRS ERD instructors take an advanced test of driving ability and register with the Institute of Advanced Motorists (IAM) after attending the ERD instructor course. They are also part of the DVSA Approved Driving Instructor (ADI) register for car instruction.
The Training Section produces an annual driver training programme for courses requested, which commences on 01 January. The programme also allows for urgent training requirements which may not have been foreseen. The Training section actively monitors the outcomes of courses and assessments and amends the proficiency criteria as required to meet the needs of NYFRS.
The process for training is given in the schematic: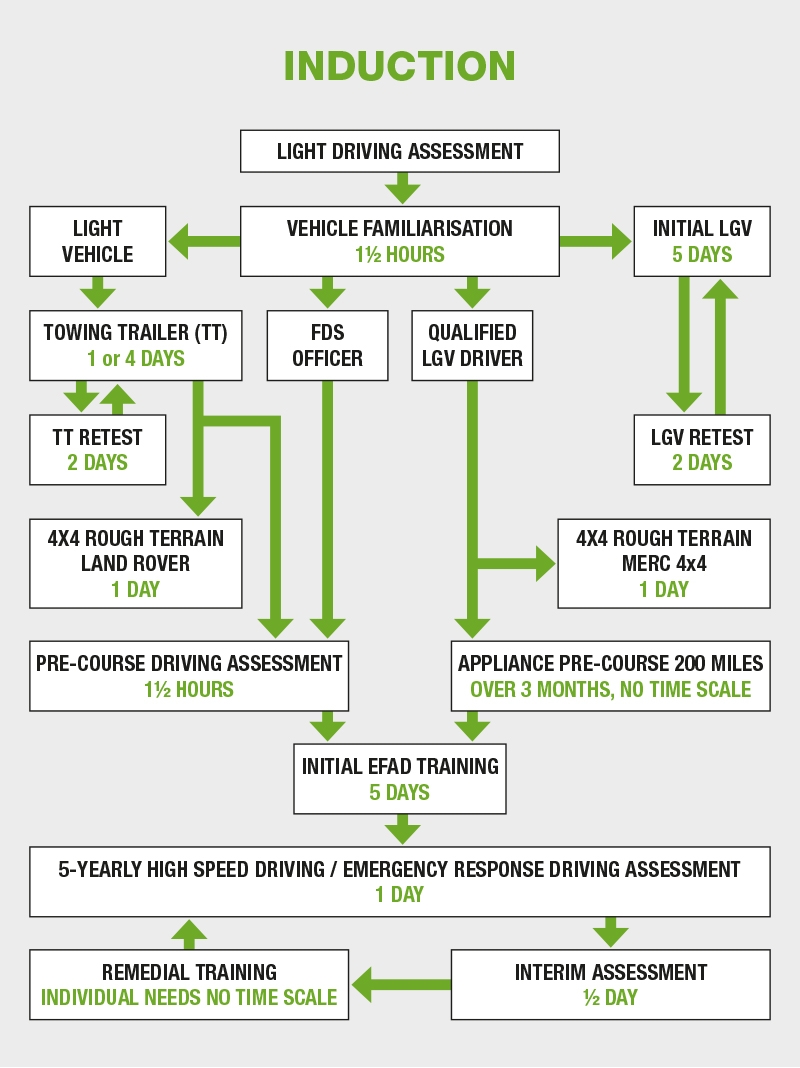 Work Related Road Safety Guidance for Drivers
A driver must not drive an unfamiliar vehicle until vehicle familiarisation has been received. This programme covers:
Pool Cars/Light vans– Understanding the manufacturer's handbook on first use.
Flexible Duty System (FDS) Cars– The trainee is given a familiarisation briefing and directed to read and understand the manufacturer's handbook on first use.
Medium/Large vehicles (above 3500kgs Gross Vehicle Weight) – Familiarisation training for the trainee is delivered by a driver training instructor and the trainee is directed to read and understand the manufacturer's handbook on first use. Drivers must be accompanied by an instructor during the initial drive to ensure the driver demonstrates an understanding of vehicle length, size, width, wheel base, handling characteristic and limitations.
All NYFRS drivers have a responsibility to ensure that any vehicle to be driven is in a legal and roadworthy condition prior to use.  Drivers must always carry out pre-journey safety checks in accordance with the Vehicle Routine Maintenance Checks – Standard Operating Procedure. The driver of the vehicle being used will record completion of the pre-use check in the Vehicle Log Book.
Where a vehicle is likely to be used at short notice under response conditions with time being of the essence, checks will be carried out during:
Change of shift
Commencement of duty
Community fire station drill day/night
On return to station all necessary checks and replenishments must be made in order to maintain operational effectiveness.
If a NYFRS or lease vehicle is legally non-compliant, or unroadworthy and has a defect which may contribute to a dangerous occurrence or injury, the vehicle must be taken off the road until such a time when repairs can be carried out or the problem has been rectified.  All defects must be reported and recorded through the appropriate channels and entered in the Vehicle Log Book in accordance with Transport Policy and Procedures.
A member of the Service driving their own vehicle when engaged on NYFRS business must adhere to the Own Vehicle Standard Operating Procedure.
A driver must only drive a vehicle for the purpose for which it has been designed.  He must not carry loads which will affect the safe handling of the vehicle or pose a potential danger to the occupants or to other road users.
Auditing, Reviewing and Learning Lessons
The NYFRS has developed a safety culture in which accident reporting is seen as a norm and has a good record in road safety. A key element in maintaining this record is the meticulous analysis of all situations which might increase the risk of an incident and the identification of Lessons Learned from them.
All vehicle accidents and near misses are investigated by the Health and Safety Unit (HSU), Transport and the Training Section in accordance with the brigade accident investigation policy. As a result of these investigations, procedures and individual performance standards are reviewed with the aim of improving safety output.  In the event of a failure of individual standards, re-assessment leading to further development training is a possible solution. Where procedures need to be changed or improved, this is done immediately.
Personnel are encouraged to report all incidents affecting personnel and equipment as well as any process or procedure which might lead to an incident. The NYFRS also encourages "Near-Miss" reporting and Causes for Concern (CFC) which are actively managed through the dedicated Health and Safety Unit (HSU).
Vehicle incidents are reported and managed in the same way as personal incidents. As a result, the reporting system provides information on a wide variety of vehicle incidents, including the slightest of damage which might result from a minor collision. This process allows the Health and Safety and Driver Training staff to analyse these incidents; to identify and draw lessons; and to implement a training process which prepares staff to drive safely.
All these incidents are reported to the HSU which prioritises, manages and monitors the outcomes. A bi-monthly report on accidents, both personal and vehicle, is compiled by HSU and presented to the Health and Safety Committee.
Lessons are learned from every incident in which the NYFRS is involved which are carried thorough into amendments to policies, management processes, Standard Operating Procedures and specification and procurement of vehicles. An example is given below:
Reversing
Reversing Fire Service vehicles is the driving manoeuvre most likely to lead to an accident. To assist in eliminating this risk a series of simple procedures clarifying responsibilities and signals has been devised.  On all occasions when a Marshall is being used the following signals should be used by the Marshall and the driver of the vehicle must have an understanding of their meaning.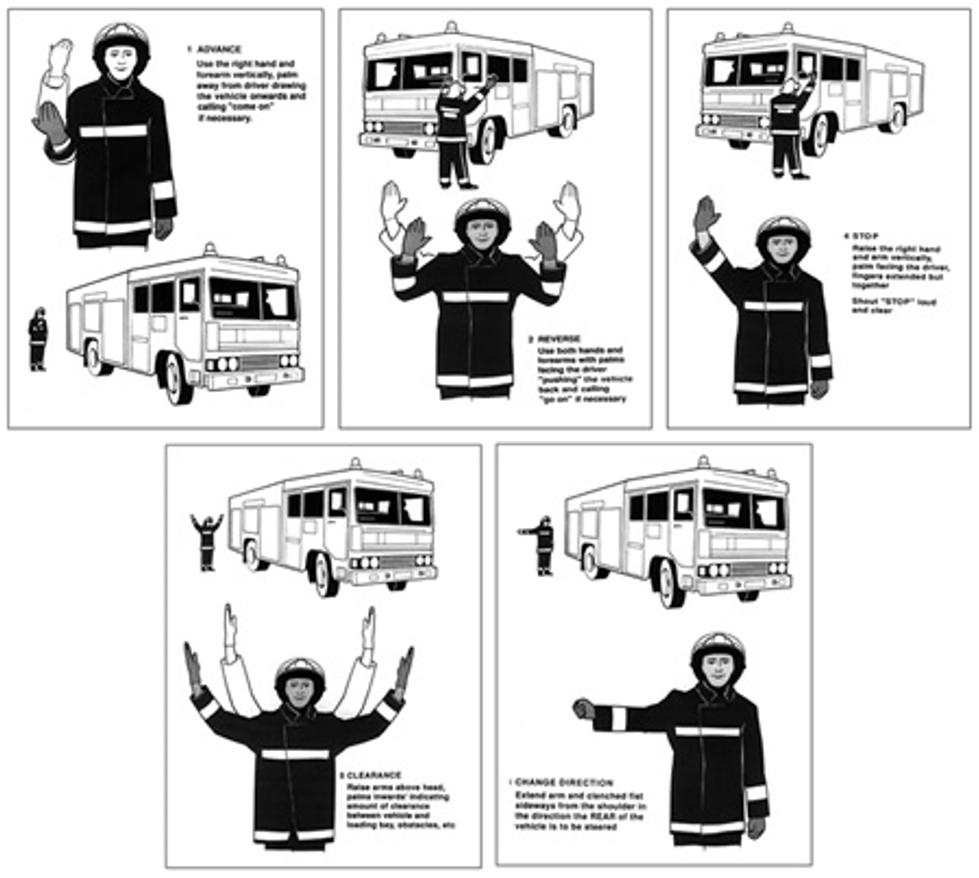 Accident Reduction and Business Benefits
In the 4th Quarter of Financial Year 2015/2016, the NYFRS received 4 vehicle-related incident reports in comparison with 14 for the same period in 2014/2015, a reduction of 71%. Given the unusually bad weather conditions Involving wide spread and sustained floods in early 2015, the Service believes that this reduction in the number of accidents stemmed from the management processes put in place to address the issue of driving in adverse weather conditions and the quality of driver training. Of the 4 incidents, 3 were reportable to CLG and no injuries were sustained by Service staff or members of the public. All incidents resulted in minor damage.
The NYFRS accident and incident rating is low.  It is, therefore, difficult to demonstrate continual improvement by examining statistics and performance figures alone. In order to demonstrate the Service's proactive approach, the NYFRS looks to review and improve its management systems.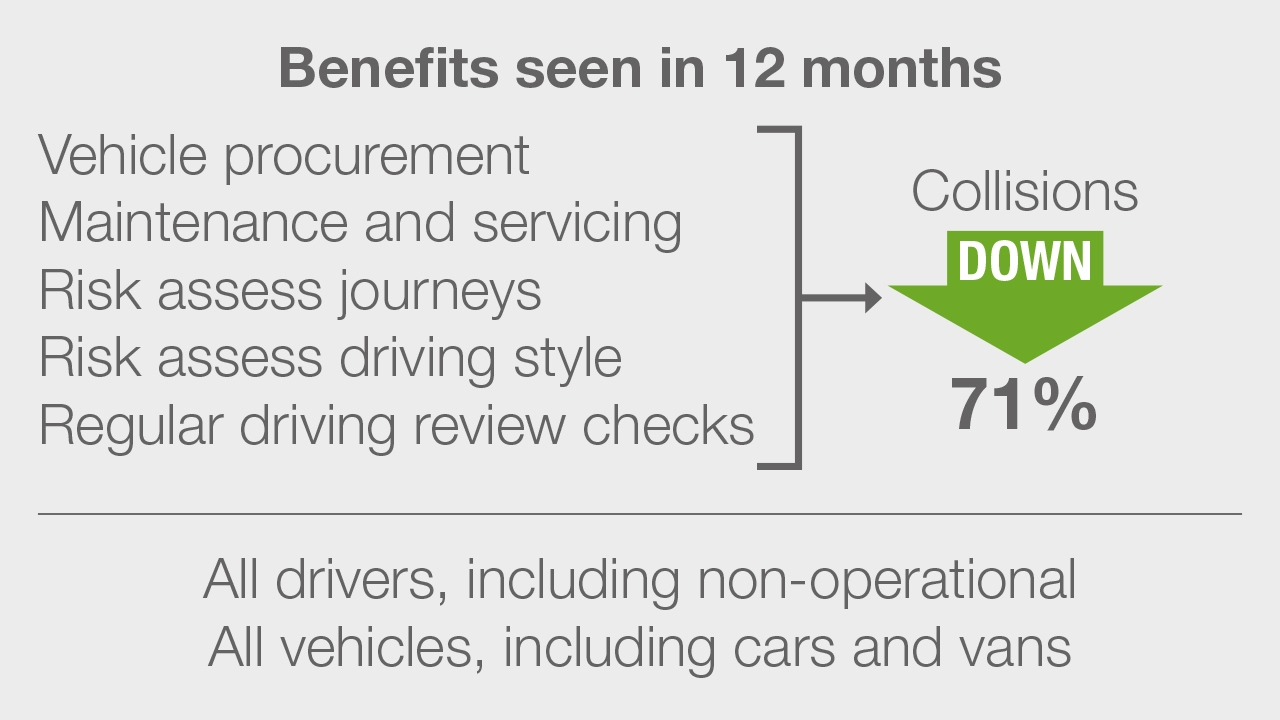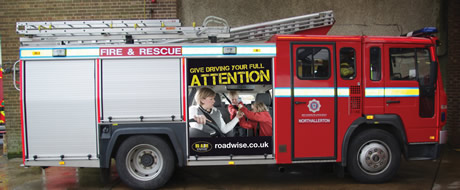 In order to satisfy its insurers, the NYFRS attends claims meetings every six months where the actual costs of accidents are quantified and the strategies introduced to reduce accidents are appraised. This effective and continuous working relationship with its insurers allows the NYFRS to keep its insurance premiums to the minimum.
Given the relatively lengthy replacement cycle for its vehicles, the NYFRS needs to ensure strict maintenance procedures are adhered to and avoid unnecessary vehicle damage. Good performance in this regard ensures the NYFRS enjoys an excellent reputation for the economical use and husbandry of its equipment.
Current and Future Developments
The NYFRS is keen to review all aspects of the way in which it uses its vehicles.
Consideration is being given to a review of processes which might contribute to the reduction of business mileage and may lessen the impact that the service has on the environment. For example the Service is actively engaged in:
Reducing business mileage by 10%. The processes under review include considering how the use of video and tele-conferencing might eliminate the need to travel to meetings.
Changing the way the service delivers both technical and community fire safety by using smaller vehicles that use less fuel than a traditional appliance.
Bringing about environmental benefits by encouraging cycle to work schemes within the Service. Twice a year the NYFRS offers its personnel the ability to save over 40% against the cost of a new bicycle.
Introducing incentives to encourage personnel to purchase greener vehicles under the Vehicle Leasing Scheme.
Identifying schemes for car sharing/pooling tied in to discount schemes offering tyre and maintenance checks which might bring considerable safety benefits to its personnel.
Awards
The NYFRS for 8 consecutive years achieved prestigious RoSPA Gold Award for Occupational Health and Safety, and also Commended and Highly Commended Awards in the Emergency Services Sector culminating in 2014 with the award of Winner in the Emergency Services Sector. This award was based on the commitment of the NYFRS to delivering efficient management processes which ensure high standards of health and safety.