Balfour Beatty's fleet profile is made up of around 3,500 cars, 750 Large Goods Vehicles, and 2,000 Light Commercial Vehicles. Our workforce is circa 14,000 direct employees, excluding joint ventures, of which 9,500 are designated as driving on company business, 1,650 of those using their own vehicles (grey fleet), with a further 2,500 non-direct drivers, JV partners and nominated partners/spouses. This means that Balfour Beatty is managing the road risk of around 12,000 drivers.
As a business, we already undertook sporadic licence checking - both visually and via preconsented interaction with the DVLA. But we quickly concluded that this was inconsistent and a more robust approach was required.
So we partnered with an external supplier, ARI Fleet UK, and looked at not just licence checking but what else could be achieved. The result was the Permit to Drive (PtD) scheme.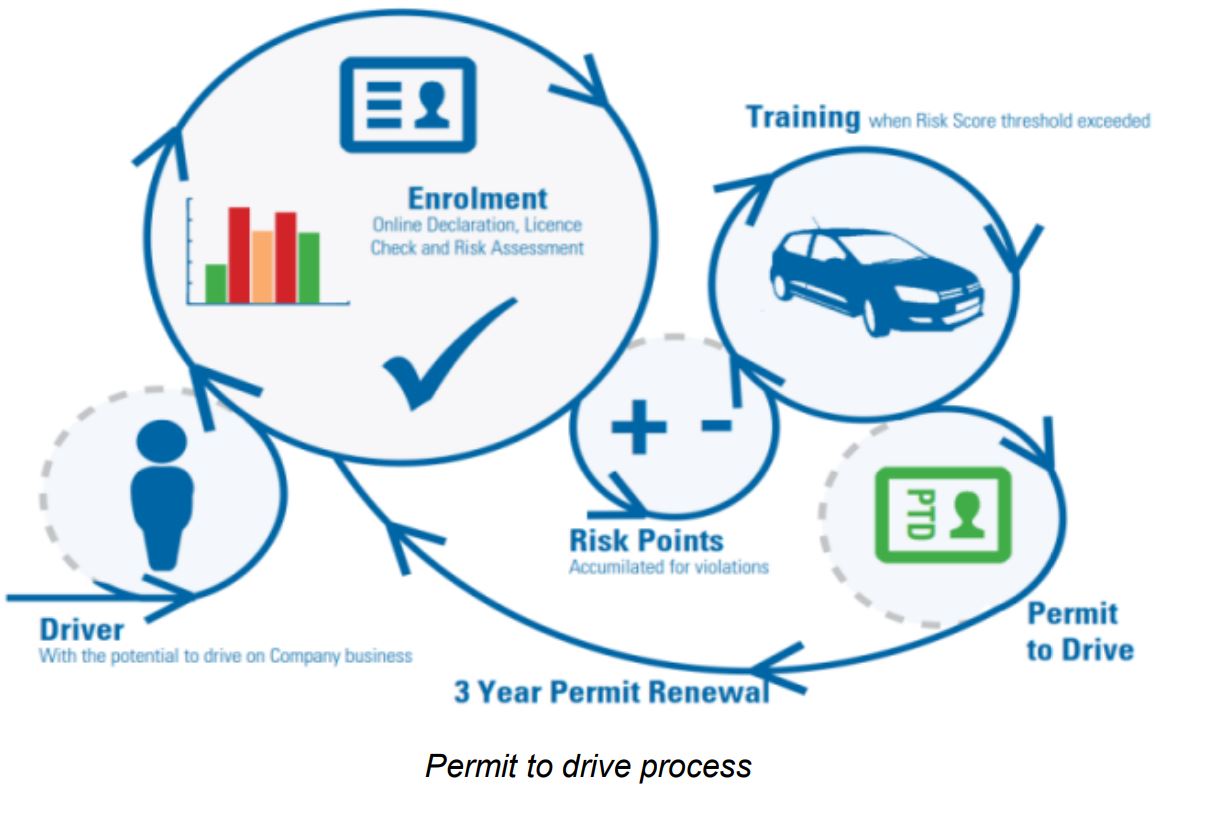 The aim of the scheme was to incorporate all aspects of driver profiling into one program – not to stop our people from driving.
In brief the program requires everyone that drives a vehicle, be it car, commercial or their own vehicle on business, to be enrolled on the PtD scheme, in order to obtain a Balfour Beatty PtD card. The process for obtaining a PtD card is that each delegate is invited to log on to a web-based portal to undertake a short online assessment, which will ask for details relating to accident history, driving qualifications and current driving habits. This is followed by several typical driving scenarios (e-learning) to assess attitude to risk.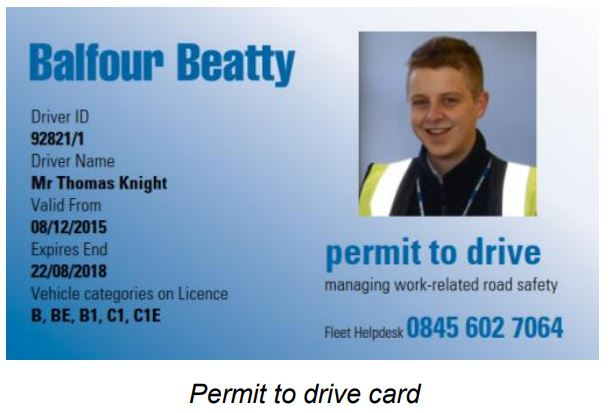 Additionally, a completed licence mandate is submitted which allows us to periodically check their licence for validity and endorsements. Once all components are complete, a risk score is assigned to each driver. Providing the score does not exceed our pre-determined threshold of 45 points, a permit to drive will be issued and access to company vehicles granted.
But the process does not stop there. By embedding criteria around who is eligible to drive for Balfour Beatty and which parameters demonstrate a risk or require mitigation, the system allows us to understand our driving community and manage, by exception, where we would Permit to drive process Permit to drive card need to take further actions. We also decided from the outset not to be judge, jury, and executioner, instead we would present the details to the interested parties (managers and supervisors), so they can make an informed decision on the applicants driving future with the business – putting the control in to the hands of the key people within the business.
Giving the supervisor/manager/director opportunity to review the issues uncovered, allows them to choose the best course of action. Be it on-road coaching, classroom 1-2-1's or removal from driving privileges as a last resort.
The application is also dynamic and continuous. On a weekly basis, the DRM team would import into the program, data feeds such as road traffic incident data from our insurance team, 'how's my driving' complaints rang in by the public, licence endorsements gathered from periodic licence checking and perhaps most importantly - telematics performance data.
This constant feeding of data into the system ensures a dynamic picture of each driver's risk status within the business and allows us to quickly and proactively identify any drivers of concern and action accordingly. This helps us to capture the risk before an incident occurs.