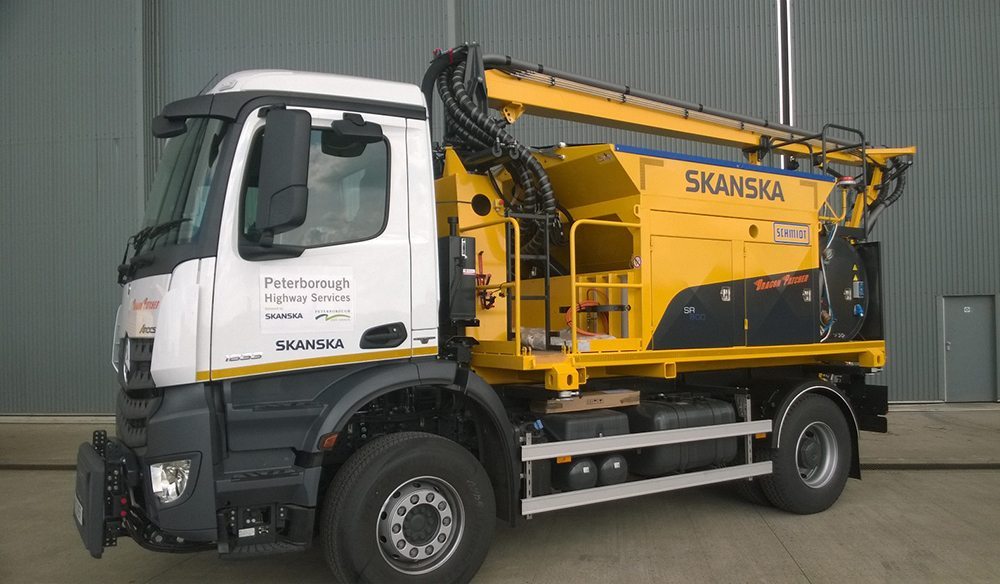 Champion:
 Skanska
Business Sector:
 Project development and construction group with expertise in building, piling and foundations, facilities management, utilities, civil engineering, mechanical and electrical engineering and highways maintenance.
UK Fleet Size:
2567 plus 590 private vehicles
HGV: 313
LGV: 714
Company Cars: 1540
Grey Fleet: 590
Introduction
Skanska is one of the world's leading project development and construction groups. The UK operation is one of the country's top 10 contractors.
In the UK, Skanska is famous for building iconic structures like 30 St Mary Axe (the Gherkin), Heron Tower, Barts and The Royal London hospitals and the QEII Bridge. Just as important are our extensive service-based contracts: upgrading London's gas infrastructure, a wealth of facilities maintenance contracts, long-term street lighting projects, and landscaping for the London 2012 Olympic Park in Stratford.
By combining our skills and experience in construction and infrastructure development, we have become a UK leader in delivering projects in healthcare, education, defence, transportation and municipal services, delivered through both private and public investment. Specialist in-house teams provide world-class foundations and piling expertise, as well as mechanical and electrical services for buildings and infrastructure.
Our values
Our Code of Conduct and Five Zeros together embody our values and the way we do business:
zero loss-making projects
zero accidents
zero environmental incidents
zero ethical breaches
zero defects
Sustainability
Our forward-looking approach to sustainability is expressed through Our Journey to Deep Green™, where our aim is for all Skanska projects to have a near-zero impact on the environment. Our role as a leading green developer and contractor was confirmed when our President and CEO, Mike Putnam, was invited to be Co-Chair of the Green Construction Board, alongside Business Minister Michael Fallon, in 2012.
Nature of Operation and Driving Activities
The Skanska fleet consists of cars, light commercial vehicles (vans and tippers) and heavy goods vehicles (tippers, MEWPS, traffic management vehicles, vacuum excavators and coaches).
The predominant use of the vehicles is for transportation of workforce and equipment to work sites, apart from the specialist vehicles listed above. Skanska has three operating licences and works throughout the UK.
Work Related Road Safety Policy and Procedures
Skanska UK has the following policies and procedures in place:
Commercial vehicle drivers manual
Company car and car allowance driver's manual
Company vehicle policy
Occupational road risk policy
Motor vehicle road traffic procedure
Skanska green car policy
DVLA checks through Licence Bureau
Driver's risk assessment and identified training based on risk rating (through peak performance)
Work Related Road Safety Guidance for Drivers
The documentation detailed above has been produced to provide both policy and guidance in relation to all driving activities including road safety. All employees who drive on Skanska business are inducted in line with the driver manuals.
There are also a number of safety briefings and best practice case studies that are available on the intranet. Skanska also holds 'stand down' meetings in order to discuss and learn form major incidents.
Specific Examples of Procedures
Commercial driver's manual
Motor vehicle road traffic procedure
Company car and allowance driver's manual
DVLA consent form
Company vehicle policy
MORR policy
Winter driving advice
Auditing and review
Skanska holds ISO9001, ISO14001 and OHSAS 18001 accreditations and is subject to rigorous audit from its internal compliance team and third party auditors.
Skanska has recently been successfully audited for reassessment to FORS (Fleet Operators Recognition Scheme) and is also accredited under the FTA Van Excellence Scheme.
The Fleet Operations Manager also conducts specific audits at depot level. This is an area that is currently under review in order to introduce a new robust audit regime specifically targeted at fleet related matters.
Performance Measures
Skanska works very closely with its supply chain partners, which include organisations such as FMG, Leaseplan, Licence Bureau, Peak Performance and Shell From information gained through analysing tracking data, the following performance measures are used to set strategy and measure improvements:
Collision frequency
Crash damage cost
Percentage of drivers who have gone through the risk assessment and associated training process
Speeding and other behavioural events
Fuel consumption
Accident Reduction (as result of WRRS measures)
Skanska has already begun to see a reduction in the accident frequency rate, and it is important to note that the figures include both own and third party damage.



This is broken down between cars and commercial vehicles as follows:




The figures are provided by Leaseplan who act as Skanska's accident management company. Although there is still a huge opportunity for improvement, the statistics do show an overall 8% reduction in AFR between 2010 and 2012.
Financial and Other Benefits (as a result of WRRS measures)
As with the AFR, all figures are provided by Leaseplan and show a saving in accident damage costs (from 2010-2012) of company cars and commercial vehicles of £58,950
Working with Leaseplan has also enabled Skanska to achieve the following additional savings in the same period: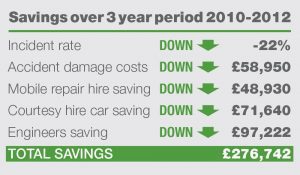 Implementing telematics into our commercial fleet has resulted in a reduction in both the number of collisions and the size of our insurance premium. Less expected was that one of our first contracts to use telematics has also shown a 10% reduction in fuel usage between January 2016 and March 2017. However, while telematics can deliver great benefits, it is important to remember that managing and acting upon the data is essential to maximise these savings.
Alison Moriarty,
Fleet Risk and Compliance Manager, Skanska
Lessons learned
Fleet safety has always been important, but we have learned that it needs to be a living breathing part of the overall safety culture of the business.
Our drivers are already skilled and know how to drive safely, but they sometimes chose not to. Changing driver behaviours is the only sustainable way to improve the culture long term.
Current and future developments
Skanska has recruited a Fleet Road Risk Manager to lead a dedicated team and further develop on the work achieved so far in relation to road safety.
The team will work with the business to identify areas for improvement based on their current position. There will be a range of measurements recorded to establish a baseline in:
Accident frequency rate
Poor driving behaviours (from telematics reports)
High risk drivers based on number of traffic violations
Fuel consumption
Issues arising from audits including driver's hours, defect reporting, and completion of identified training.
Skanska's Fleet Road Safety Manager will attend senior safety team meetings and engage with health and safety teams, to extend the strong safety culture that Skanska has to all aspects of driving for work.
The fleet department is establishing a new robust auditing system focusing on the vehicle/driver/journey aspects of the business. This will work in addition to the existing audits and enable the process to add real value to our fleet operations.
Contract champions will be identified to ensure a consistent approach throughout the business.
Skanska is going to be part of the new 'Fleet Safety Forum' put together by IOSH.
Additional information
Skanska has a strong safety culture and holds numerous awards from ROSPA, British Safety Council and specific industry sectors.
Skanska holds the following fleet-associated accreditations.