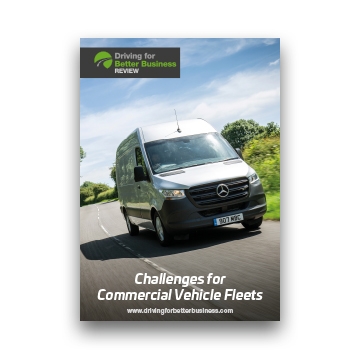 Download the report here
Commercial vehicles are essential to UK plc. In our review of challenges for commercial vehicle fleets, we look at some of the key challenges for fleet operators that affect cost, compliance and safety:
The Future of Deliveries
Why much more consideration needs to be given to how deliveries will be made in the future.
By Christopher Snelling, Head of UK Policy at the Freight Transport Association
---
Town & City Access
A look at the implications for operators of vans and truck fleets as our cities undergo fundamental change.
By Stephen Briers, Editor-in-Chief, Commercial Fleet
---
Keeping the Traffic Commissioner Happy
Why a breakdown in trust between fleet operator and traffic commissioner could severely disrupt your ability to do business.
An interview with Sarah Bell, Traffic Commissioner for London and the south east
---
The Compliance Landscape is Changing
Why employers and fleet operators across the country, whose commercial vehicles are defective, or whose drivers break the law, are coming under closer scrutiny.
By Simon Turner, Campaign Manager, Driving for Better Business
---
Commercial Vehicle Safety Initiatives
The Highways England Commercial Vehicle Incident Prevention Team collaborates on a range of commercial vehicle safety initiatives and has produced a range of free resources for operators including a new diesel spillage best practice guide.
---
Safe, Efficient Van Conversions
A converted van is much more than a set of wheels. It improves efficiency and safety while reducing risk, cost and admin.
---
Leading from the Front
With 5,500 commercial vehicles on its UK fleet, correct management of these vital business assets can have a significant impact on driver safety, business risk and overall efficiency.
By James Haluch, Managing Director of Amey Highways
---
Using Telematics Effectively
How to best use the insights that telematics can offer to improve driver behaviour and preserve vehicle health.
---
Agency Driver Compliance
How to ensure consistently high standards of compliance from agency drivers.
---
Managing the Hidden Risks of Commercial Fleets
The commercial impact of factors such as vehicle downtime or clean air legislation can be significant and hard to pin down. In addition, companies that commit capital into purchasing commercial vehicles could impair their ability to invest in their core business, and the cost of 'wrongsizing' or miss-specification can be other factors that erode performance.
---
Electric Vans: The magic bullet?
A look at some of the challenges in deciding whether electric vans are right for your fleet and the impact they are likely to have on your safe driving and vehicle maintenance policies.
---
Safe Driving Culture
Hannah Gregory, DfBB's Champion Programme Manager explains how to cultivate a healthy culture with your van driving community.
---
Behaving like a Champion
Paul Aldridge, Sustainability Director at DfBB Business Champion WJ Group, the UK's leading specialist road marking company, talks about behaviour and its impact on work-related road safety.
---
Truck Tyre Cost Benefits
Tyres, as the only part of a truck or trailer which makes direct contact with the road, should be seen as an investment, rather than a commodity.
---
Van Driver Challenges
The Business Barometer surveys from Mercedes-Benz Vans highlight some of the key concerns affecting today's van drivers.
---
Van Driver Mental Health
Van drivers often operate in highly pressured and lonely environments, and the combination of tight deadlines and isolation can lead to stress. Van Excellence is working with CALM to improve wellbeing.