Free 'Toolbox Talks' for Van Drivers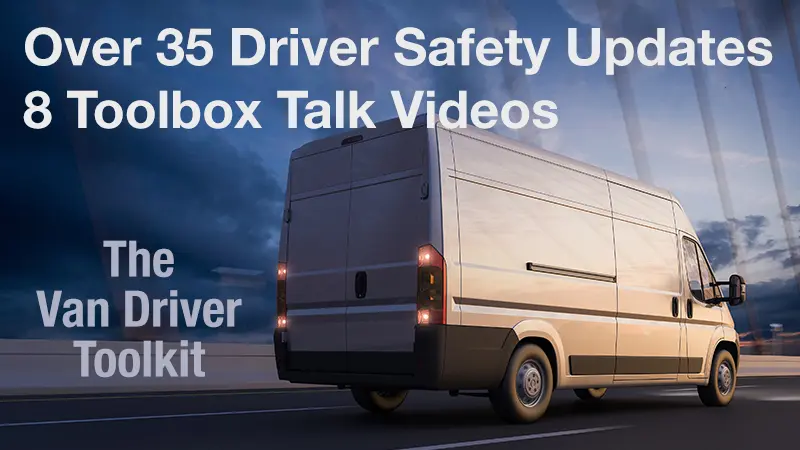 FREE "TOOLBOX TALKS" FOR VAN DRIVERS
Following the runaway success of its free, multi award-winning Van Driver Toolkit, National Highways has a series of "Toolbox Talks" – short, easy to follow videos, available through its Driving for Better Business programme – to help the growing number of organisations to educate their drivers who use light commercial vehicles.
The series of eight videos are being unveiled at a National Highways conference at the National Space Centre, near Leicester today (16 March) to a sell-out audience of fleet and health and safety leaders. The videos – each lasting around 8-10 minutes – carry important driver information and address the many misconceptions around van regulations covering:
Fatigue
Drivers' hours
Safe towing
Distractions
Severe weather
Speed limits
Roadworthiness
Safe loading
The straight-talking video on fatigue says that one in five incidents is caused by tiredness and 40% of such incidents involve a commercial vehicle. It goes on to give tips to avoid drowsy driving. The roadworthiness module lands some powerful points on daily walkarounds: 39% of vans fail their MOT first time; 66% of all vans stopped at the roadside have serious mechanical defects; and of those, 85% should have been identified via a proper pre-use check. The section on speed limits explains the difference between car-derived vans and other vans, why they don't have the same legal speed limits on single and dual carriageways … and that it's a limit, not a target. On safe loading, the talk explains gross vehicle weight, kerbside weight and payload weight and the safest ways to secure a load.
Driver distractions explains the types – visual, manual, auditory and cognitive – that can all affect driving skill, as well addressing the use of mobile phones. The crucial video on drivers' hours says there is a common misconception that driving a vehicle at or below 3.5 tonnes gross vehicle weight is not subject to restrictions. In fact there are two different sets of rules that can apply and drivers breaking these rules can receive large fines and even custodial sentences.
The section on safe loading and drivers helps operators to understand the difference between gross vehicle weight, kerbside weight and payload weight. Guidance on the severe weather module will be familiar to all drivers but it also addresses the effects of high-sided vehicles on other road users such as motorcyclists and how gales and gusts can affect the handling of commercial vehicles.
The Toolbox Talks help to cut through the myths to keep drivers safe, vans legal and to ensure employers comply with not just road traffic legislation but also their Health and Safety at Work responsibilities. Each video also has a short quiz at the end to help drivers check their understanding of what they've just learned.
Many employers are unaware that driving a vehicle for work is clearly covered by Health and Safety rules. The Toolbox Talks can be accessed by fleet operators and anyone who employs van drivers in their business.
"The Toolbox Talks are aimed at the huge number of van operators who may not have the in-house expertise or resources and have a hazy understanding of the law," says Mark Cartwright, Head of the Commercial Vehicle Incident Prevention Team at National Highways.
Lack of awareness is a major issue, he says. "When HGVs are pulled over by the DVSA, the driver is usually aware what's gone wrong. With van drivers, they often say they simply weren't aware of the law. But it's worth knowing that 89% of vans stopped by DVSA are overloaded, and the average fine per overloading offence is around £972. Ignorance is no defence.
"We're delighted with the impact our free Van Driver Toolkit resource is having in raising awareness of safety and compliance with van operators and their drivers, which was accessed 21,800 times in 2022 – and 46,009 times overall. PDFs of the Toolkit were downloaded 842 times in 2022 and 6152 overall. We've been listening to their feedback which is why we're now releasing this series of ready-made toolbox talks. We're sure operators will find this useful."
Toolbox Talks are available here https://vandrivertoolkit.co.uk/ to anyone who registers for the Van Driver Toolkit.
Images are available here:
https://www.dropbox.com/sh/ux57p6jayhqo4kn/AADuvde6yO_YqEJudkEbA4W0a?dl=0
The Van Driver Toolkit is available here: https://vandrivertoolkit.co.uk/
The straightforward modular format of the Van Driver Toolkit earned it the Fleet News 'Outstanding Product of the Year' Award. Content was developed with the support of National Highways Van Operator Reference Group made up of 40 representatives of some of the best-run van fleets in the UK. The Toolkit is widely endorsed by users for being simple and free.
Mick Kiely, Fleet Manager at TES2000 LTD, a long established, highly regarded principal contractor to the rail industry, said:
"The Van Driver Toolkit has had a positive impact on the reduction of incidents and accidents within our fleet which resulted in a 25% reduction in Insurance premium for 2021. The various modules also had an impact on driver behaviour which resulted in reduction of fuel costs. For years I have been getting resources from numerous companies and associations which varied in formats and information supplied but once the Driver Toolkit became available it made by position as Fleet Manager easier. The Driver Toolkit has also enabled drivers to gain more knowledge on what is required from them while driving a company vehicle and adapt to any changes in driving standards. TES 2000 were the winners of National Fleet Awards Company Driver Safety 2021 (Brake) and I was highly commended as Road Risk Assessor of the Year, I can honestly state that without the assistance of the Driver Toolkit we would not have had the statistics to submit the entry."
Media contact: Hadstrong https://hadstrong.com/ Becky Hadley on 07733 054839
About Driving for Better Business
Driving for work is one of the highest-risk activities that many employees undertake, whether they drive a commercial vehicle, a company car or make occasional work journeys in their own vehicle. As the gig economy continues to grow, this also means those who ride for work as well as those who drive.
Driving for Better Business is a free to access government-backed National Highways programme, delivered in partnership with RoadSafe, to help employers in the private and public sectors reduce work-related road risk, protecting staff who drive or ride for work, and others who they may share the road with.
Our mission is to improve the levels of compliance for all those who drive or ride for work by demonstrating the significant business benefits of managing work related road risk more effectively.