Let's Talk Fleet Risk Podcast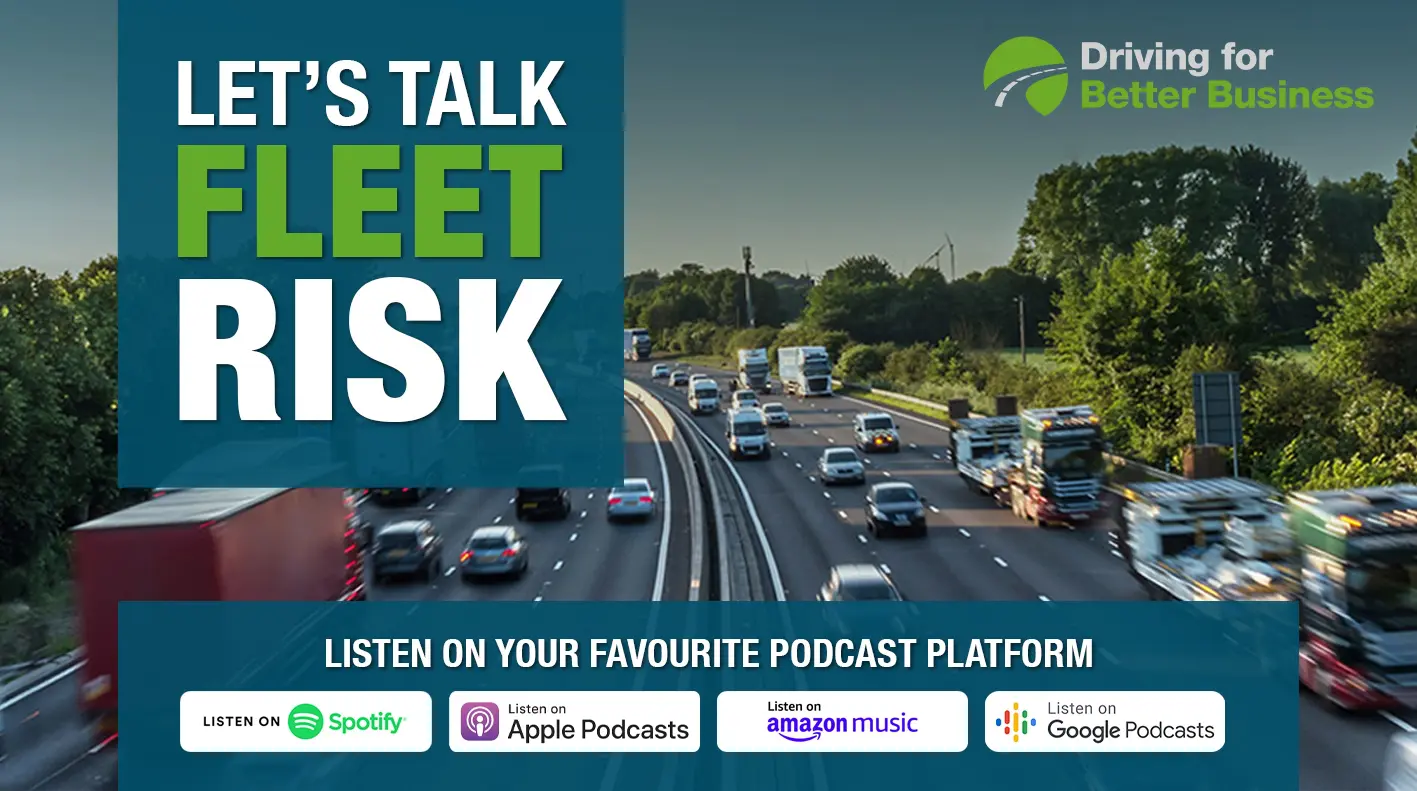 FLEET PODCASTS: REAL INSIGHTS INTO THE HAZARDS OF DRIVING FOR WORK
The distractions of hands-free phone use, managing a grey fleet of 5000 plus complex other transport needs, and the rights and wrongs of van safety use – all are the subjects of a series of fascinating 30-minute podcasts now available from National Highways Driving for Better Business (DfBB). On Let's talk Fleet Risk Campaign Manager Simon Turner talks to a range of experts who share insights and research findings to help fleet managers operate more safely and efficiently.
The complexities of logistics and deliveries mean that company policies on mobile use are often "bent" under commercial pressures.  In Driver Distraction: an inconvenient truth, Simon Turner chats with Dr Gemma Briggs, cognitive psychologist from the Open University and an expert on driver inattention. Most drivers are clear that hand-held phone use is illegal and therefore must be high risk so they believe that hands-free, which is not outlawed, must be safer – likening it to a discussion with another passenger.
As Dr Briggs explains: "It's all about cognitive distraction, what happens to their attention within a driver's brain – not about having both hands on the wheel. Other road users are compensating for your inattention.
"In fact, hands-free offers no safety benefit – so regardless, you are four times more likely to be involved in some kind of incident or crash; your hazard perception vastly decreases; and those hazards that you do notice, you'll take significantly longer to react to. A driver can look directly at something but fail to react to it and later say they didn't see it."
This is highlighted clearly in Counting Cars, a simple but effective video https://youtu.be/XRXdmmTk32I that demonstrates the difficulty of focusing on two different visual tasks at once.
Dr Briggs also explains that in a phone discussion, the person at the other end cannot see what the driver can see and is unaware if the driver goes quiet while handling a potential hazard – something that a passenger normally responds to.
The podcast goes on to discuss what employers can do to make driving safer for their employees and those sharing the road with them. A DfBB survey showed one in 6 drivers (17%) – were involved in an incident while on the phone to their boss or a colleague.
"There's sometimes a disconnect between what the management say is the policy on phone use and what they expect from employees," says Dr Briggs. "However, many companies are now imposing clear bans on phone use while driving for all employees and they are making it work effectively: employees know when it's safe to check for updates on deliveries."
In Van Drivers & Operators: who's aware? Mark Cartwright head of National Highways Commercial Vehicle Incident Prevention Team chats with Simon Turner about van safety, overloading and vehicle maintenance as well as driver wellbeing.
He addresses the common misconception among fleet operators that there are differences in the law on HGVs vs vans, saying: "Actually, the legislation is pretty much the same. We see a lot of loading issues, with many electricians and gas fitters using their van as a shed. The safe capacity of a commercial vehicle isn't just how much you can get into it! We also see issues around basic roadworthiness, so we know vehicles aren't being checked."
They discuss some of the main reasons for MoT failures on vans being faults on tyres, brakes and wheels, making loading issues doubly critical.
Mark Cartwright says there are companies in areas such as construction and scaffolding who are acutely aware of safety in their own primary business but do not perceive the risk they and their drivers face and present on the road.
The podcast goes on to discuss Operation Tramline which monitors drivers committing what Mark describes as "mundane but dangerous offences" such as eating – in one case, a three-course meal – at the wheel, or checking social media.
On NHS Hospital transport: a gigantic challenge, David Malone, the transport and travel advisor for the Newcastle-Upon-Tyne Hospitals NHS Foundation Trust, talks to Simon Turner about ensuring outsourced transport providers meet their legal obligations to manage road risk, and how the Trust's transport activities will need to develop in the future to meet their zero carbon ambitions. As the first Trust in the world to declare a climate emergency, he faces a real challenge to reduce carbon emissions. Every one of the 16,000 staff is asked – as part of the appraisal process – about their use of cars for work so that their manager knows to make the relevant licence, vehicle and insurance checks.
He manages a wide range of transport activities – including a grey fleet of almost 5000 – as well as using the procurement and vetting procedure to manage the move towards cleaner transport. He is also looking at a revolutionary approach to logistics, creating a large, off-site "consolidation centre" with out-of-town storage and using light goods vehicles to make deliveries vehicles at sites with patient movements. Such a move also frees up valuable clinical space.
"Transport impacts every aspect of the service yet is often not a major consideration in many organisations. Without an effective transport system, the whole thing grinds to a halt," he says.
Links
The three podcasts are available on the Driving for Better Business website, https://www.drivingforbetterbusiness.com/ with interviews with experts from Thatcham Research, the Health and Safety Executive, National Grid and more, to follow.
Driver Distraction: an inconvenient truth:
https://www.podbean.com/media/share/pb-2tam3-1097bb8?utm_campaign=w_share_ep&utm_medium=dlink&utm_source=w_share
Van Drivers & Operators: who's aware?
https://www.podbean.com/media/share/pb-zw82z-1084cb8?utm_campaign=w_share_ep&utm_medium=dlink&utm_source=w_share
And the free DfBB Van Drivers' Toolkit is available here: https://vandrivertoolkit.co.uk/
NHS Hospital transport: a gigantic challenge
https://www.podbean.com/media/share/pb-9bxx9-1097bb2?utm_campaign=w_share_ep&utm_medium=dlink&utm_source=w_share
Media contact: Hadstrong https://hadstrong.com/ Becky Hadley on 07733 054839
About Driving for Better Business
Driving for work is one of the highest-risk activities that many employees undertake, whether they drive a commercial vehicle, a company car or make occasional work journeys in their own vehicle. As the gig economy continues to grow, this also means those who ride for work as well as those who drive.
Driving for Better Business is a free to access government-backed Highways England programme, delivered in partnership with RoadSafe, to help employers in the private and public sectors reduce work-related road risk, protecting staff who drive or ride for work, and others who they may share the road with.
Our mission is to improve the levels of compliance for all those who drive or ride for work by sharing good practice and demonstrating the significant business benefits of managing work-related road risk more effectively.
https://www.drivingforbetterbusiness.com/