Putting an End to the Scandal of Van Safety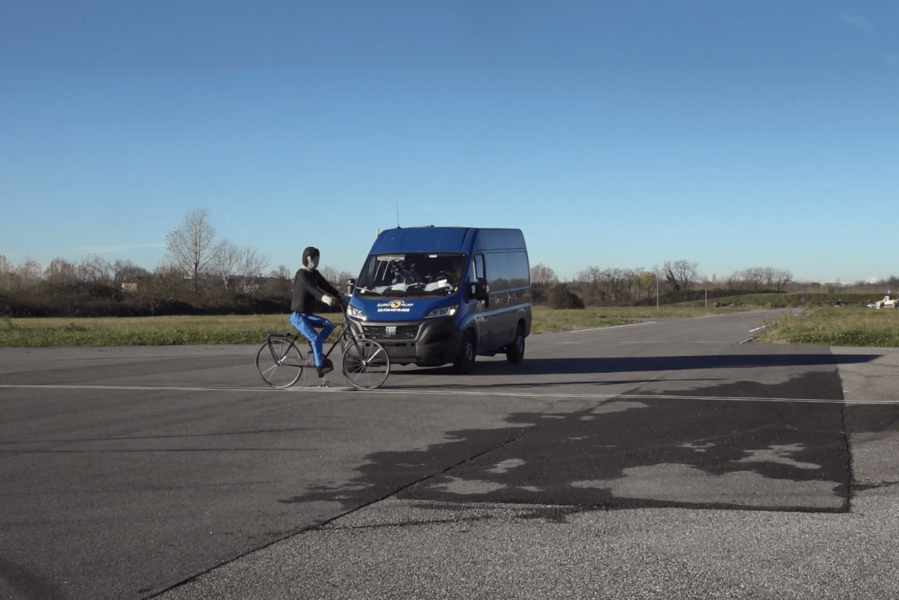 PUTTING AN END TO THE SCANDAL OF VAN SAFETY
A question for van fleet operators: do you have a 5-star car on your drive at home to keep you and your family safe?
If so, are your vans as safe?
This is the message at the centre of the latest podcast in the "Let's Talk Fleet Risk" series from Driving for Better Business.
Matthew Avery, Chief Research Strategy Officer for Thatcham Research joins Simon Turner, Campaign Manager for Driving for Better Business for a lively and direct discussion, highlighting the long-standing scandal of vehicle manufacturers bowing to consumer pressure for safety systems on cars and failing to fit the same technology on its vans.
"A good example is Nissan," says Matthew Avery. "The Nissan Juke has standard fit lane support systems, advanced driver systems, radars, speed limiters. It's a 5-star car. The van equivalent, the NV400 Interstar at the same sort of price, has absolutely no technology available, not even as an option.
"Collision-avoidance technology – cameras and radars – on vehicles is highly effective, reducing the number of crashes by about 35%. It not only protects you but it's also there to protect other road users including pedestrians and cyclists."
So why isn't ADAS technology in vans?
"Manufacturers understand the power of the NCAP 5-star rating, and if you do not have 5 stars or 4 stars, you're unlikely to appeal to a broad market," says Matthew Avery. "Without a similar rating for commercial vans, and in the absence of regulations, there was little commercial pressure on manufacturers to raise the standard."
When Thatcham Research and Euro NCAP first created a new safety rating system for vans, they found driver assistance systems rarely fitted as standard, including on the best-selling van in the UK – Ford Transit Custom. With a new, three-tier rating of platinum, gold and bronze, none reached the highest level and too many fell into the "not recommended" category.
Now, some manufacturers are rising to the challenge in response to demand being driven by Euro NCAP. The message to the fleet operators is hitting home: you can't afford to have vehicles off the road after a collision – one of the biggest costs – nor the risk of injury to drivers.
Why advanced driver assistance systems are here to stay
Traffic authorities such as Transport for London have the power to encourage better safety-rated vehicles on their roads, just as they have with vehicle emissions
Delivery contracts may become increasingly dependent on the provision of safer vehicles
With the shortage of delivery drivers, there is a growing need to protect drivers – plus a safer-vehicle policy may attract drivers to your company rather than your competitor
These technologies improve the safety of vehicles, so may drive down fleet insurance premiums.
Thatcham Research's top technology checklist
AEB – autonomous emergency braking – using a radar or a camera or a combination of both identify if the driver is responding and if they don't put the brakes on automatically, so stopping front-to-rear crashes – the most common urban crashes. It also prevents collisions with pedestrians and cyclists.
Lane-keeping support systems – crashes occur because drivers are momentarily distracted and their vehicle crosses over a white line into another car, a solid object or crosses the centre line.
Speed limiters that remind the driver to control their speed – also helps drivers keep a clean licence
Matthew Avery talks about the improvements in van safety following a second set of Euro NCAP tests, with the standout star the Fiat Ducato, which gets the very first platinum rating, and says that manufacturers are on notice that the technology is expected to be flitted as standard in the future.
What can fleet managers do to help raise van safety standards?
Look for this technology fitted as standard
Consider specifying additional safety systems: the extra cost might pay for itself many times over
Look at safety ratings on Euroncap.com and see how your fleet currently rates on the league table
Buy accordingly: money talks and manufacturers won't get Gold or Platinum unless you've got a system that way outperforms the regulatory requirements.
Listen to the full podcast, Van Safety Ratings – how safe are your vans?
https://www.podbean.com/media/share/pb-ibpud-11a9c77?utm_campaign=w_share_ep&utm_medium=dlink&utm_source=w_share
Others in the podcast series:
Driver Distraction: an inconvenient truth:
https://www.podbean.com/media/share/pb-2tam3-1097bb8?utm_campaign=w_share_ep&utm_medium=dlink&utm_source=w_share
Van Drivers & Operators: who's aware?
https://www.podbean.com/media/share/pb-zw82z-1084cb8?utm_campaign=w_share_ep&utm_medium=dlink&utm_source=w_share
And the free DfBB Van Drivers' Toolkit is available here: https://vandrivertoolkit.co.uk/
NHS Hospital transport: a gigantic challenge
https://www.podbean.com/media/share/pb-9bxx9-1097bb2?utm_campaign=w_share_ep&utm_medium=dlink&utm_source=w_share
Safe loading – where do fleet operators get it wrong?
https://www.podbean.com/media/share/pb-r3db2-1172617?utm_campaign=w_share_ep&utm_medium=dlink&utm_source=w_share
Driver fatigue: not just a tick box
https://www.podbean.com/media/share/pb-32w7q-1097c0f?utm_campaign=w_share_ep&utm_medium=dlink&utm_source=w_share
Driver wellbeing: How reward breeds success
https://www.podbean.com/media/share/pb-embgn-1097bc3?utm_campaign=w_share_ep&utm_medium=dlink&utm_source=w_share
Media contact: Hadstrong https://hadstrong.com/ Becky Hadley on 07733 054839
About Driving for Better Business
Driving for work is one of the highest-risk activities that many employees undertake, whether they drive a commercial vehicle, a company car or make occasional work journeys in their own vehicle. As the gig economy continues to grow, this also means those who ride for work as well as those who drive.
Driving for Better Business is a free to access government-backed National Highways programme, delivered in partnership with RoadSafe, to help employers in the private and public sectors reduce work-related road risk, protecting staff who drive or ride for work, and others who they may share the road with.
Our mission is to improve the levels of compliance for all those who drive or ride for work by demonstrating the significant business benefits of managing work-related road risk more effectively.