Van Driver Toolkit launched to help Van Operators unaware of risks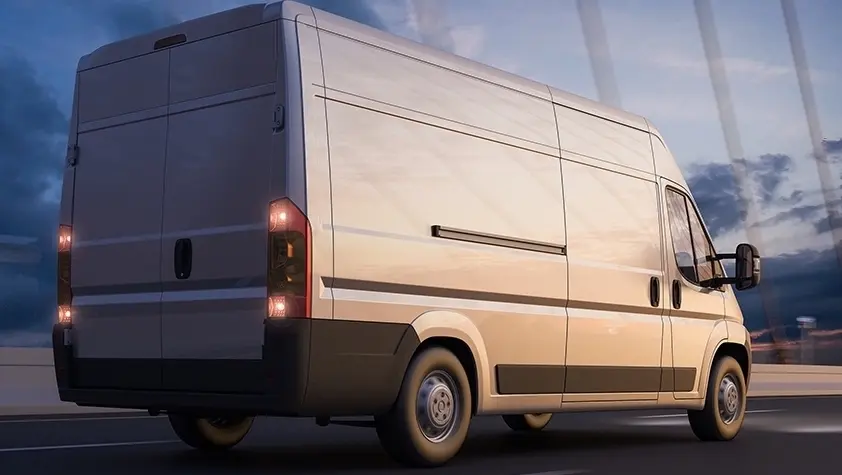 IS YOUR VAN FLEET SAFE, LEGAL AND COST-EFFECTIVE?
Van Driver Toolkit launched to help Van Operators unaware of risks
2 out of 3 vans stopped at the roadside have a serious mechanical defect
New training tool features more than 30 free online modules for van driver training, aiming to make the UK road network safer for all users
Vehicle roadworthiness, fatigue, distraction and overloading among the many important subjects that are tackled
Content has been developed with the support of National Highways Van Operator Reference Group made up of 40 representatives of some of the best-run van fleets in the UK
The number of vans on UK roads has shot up by 50 per cent in the last ten years. Huge growth in the service sector and increasing demand for online shopping and grocery deliveries – accelerated by the Covid pandemic – means there are now more than 4.5 million. But just how legal and safe are those vans, their drivers and the employers who operate them?
There is a common misconception that there is little legislation governing van drivers and van operations – perhaps because anyone with a standard car driver licence can drive a light commercial vehicle up to 3.5 tonnes. This, of course, is wrong.
A new free toolkit, launched today (31 August) by the Highways England Commercial Vehicle Incident Prevention Team as part of the Driving for Better Business programme, helps to cut through the myths to keep drivers safe, vans legal and to ensure employers comply with not just road traffic legislation but also their Health and Safety at Work responsibilities. Many employers are unaware that driving a vehicle for work is clearly covered by Health and Safety rules.
The Van Driver Toolkit is a series of free information modules to assist van drivers and their managers. It can be accessed by fleet operators and anyone who employs van drivers in their business, and shared either online, via email or as printed cards. The toolkit will help employers implement best practice to improve driver wellbeing, reduce costs, improve operating conditions, and ensure safe and legal vehicles on our roads.
The modules address the real issues that van drivers deal with, such as the risks of overloading; attention to vehicle road-worthiness; safe and considerate parking and drivers' hours.
Mark Cartwright, Head of the Commercial Vehicle Incident Prevention Team at Highways England said: "One of the things that we see in the van space is the 'organically grown' van fleet – the local business, the local entrepreneur that set themselves up as a gardener, or dog walker, or window washer, or plumber, or window cleaner – whatever it happens to be – and got good at it.  Five years on, and there are 10, 20, 50 vans parked outside – but they haven't gone through the same learning processes as a truck operator would do, for example, and probably don't realise the significant financial and reputational risk they are exposed to.
"Most of the time it is genuinely a lack of awareness – we see vans being operated by businesses that are very good at managing their health and safety in the primary areas of their business, away from the vehicle, but it doesn't necessarily translate to the vehicle operation. This is why we have created the Van Driver Toolkit – to help everyone employing van drivers and operating vans to improve their management of road risk."
Simon Turner, Driving for Better Business Campaign Manager said: "We constantly encourage fleet operators to communicate clearly with their drivers as an essential part of creating a safe driving culture within the business. However, this is easier said than done as not every business has the time or expertise available in-house to create the resources necessary to do this. We created the Van Driver Toolkit so that managers could regularly share essential information with their drivers about the standards required, and how to meet them, in a wide range of easily accessible formats."
Driving for Better Business will be at the Commercial Vehicle show August 31-2 September at the NEC with Highways England on Stand 5B22.
About Driving for Better Business
Driving for work is one of the highest-risk activities that many employees undertake, whether they drive a commercial vehicle, a company car or make occasional work journeys in their own vehicle. As the gig economy continues to grow, this also means those who ride for work as well as those who drive.
Driving for Better Business is a free to access government-backed Highways England programme, delivered in partnership with RoadSafe, to help employers in the private and public sectors reduce work-related road risk, protecting staff who drive or ride for work, and others who they may share the road with.
Our mission is to improve the levels of compliance for all those who drive or ride for work by sharing good practice and demonstrating the significant business benefits of managing work-related road risk more effectively.
https://www.drivingforbetterbusiness.com/
The Van Driver Toolkit is available here: https://vandrivertoolkit.co.uk/
Media contact: Hadstrong https://hadstrong.com/ Becky Hadley on 07733 054839