Women in Transport – Emma Wilman, National Highways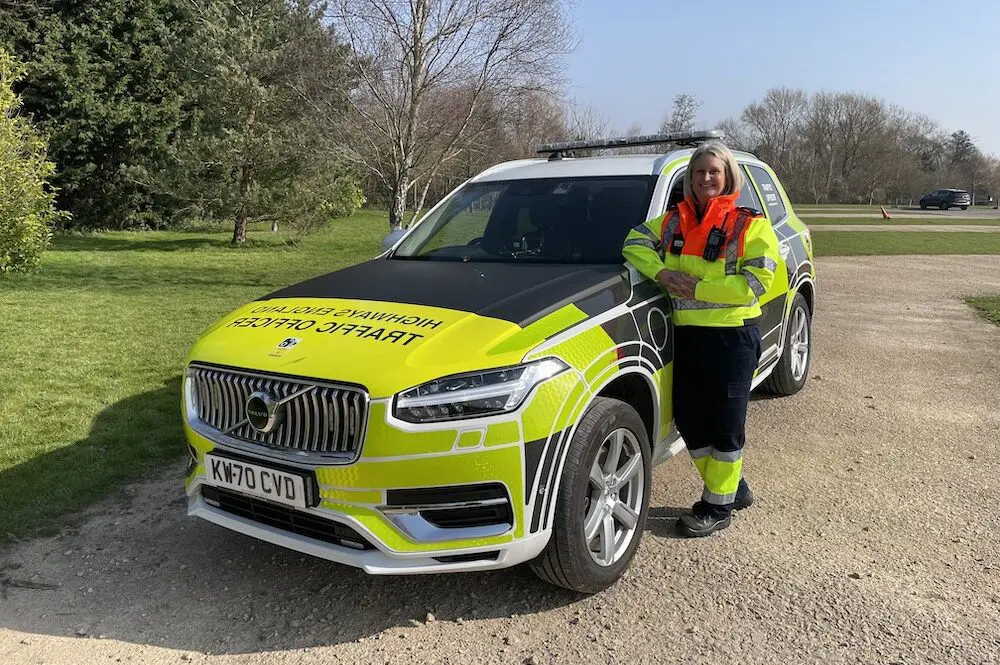 Emma Wilman
National Highways Traffic Officer: Keeping the network moving safely and efficiently for freight, business and the public
National Highways covers 4,400 miles of motorways and major A roads
4 million vehicles use the network every day
In one year 1 billion tonnes of freight is transported on the network
Nearly 75% of businesses say tackling congestion on the network is important or critical to their business
Traffic on motorways has grown by more than 50% since 1993 and is forecast to grow another 31% by 2041
We talk to just one of the team whose job it is to keep the network moving so that Driving for Better Business partners can get to work on time, deliver goods safely and reliably, and stay safe.
Emma Wilman radios her boss who agrees a Code 8 which means she's on duty but undeployable, so she can talk. Emma is a National Highways Traffic Officer in the Midlands at Strensham, covering the M5 between Junctions 4 and 8; M50 from the M5 to J4; and M42 from M5 to J2 – and occasionally beyond.
National Highways Traffic Officers are a vital part of the organisation patrolling England's motorways to keep traffic flowing smoothly and safely managing incidents.  It's a diverse role ranging from keeping road users informed through electronic message signs, to clearing debris and abandoned or damage vehicles from the carriageway, to coordinating the resources of the emergency services.  The officers are the front line and offer advice to drivers on breakdown prevention such as checking fuel, tyres and oil before setting off People are at the heart of the service.
"There's really no such thing as a typical day," she says. "It can be raining heavily and we expect the worst, and nothing happens. Other times, it's clear and bright, and we get chaos!"
From the age of 20, Emma worked for 7 years as a prison officer, something she wanted to do while at school. The job was varied and physical and brought her into contact with a huge cross-section of people, but an assault and two weeks' enforced leave had her changing direction and working in the mortgage sector.
Although she liked the sense of achievement in keeping customers happy, she hated office work and says she put on two stones in weight.
She enjoyed the more animated office work in the National Highways control centre but after two-and-a-half years she started to feel a bit envious of the hands-on activity out on the road "in the thick of it". That was her route to the job she now does and thoroughly enjoys.
The shifts are 6 days on, 3 days off, with a rotation of earlies, lates and nights, and Emma likes the early shift best to "get off to a good start".
She talks modestly about her work but says she gets huge satisfaction in organising chaos – as long as nobody is hurt, she stresses. At a scene, this often involves matching drivers to cars and sorting out witnesses from those directly affected. She then goes about moving damaged cars out of the carriageway, checking for any fuel leaks before strapping them safely for towing, clearing it all to let traffic flow normally.
"People are often shaken up from a crash or even a vehicle breakdown and sometimes need to be told what to do. I can be quite assertive, and have to apologise afterwards," she says. Then she explains that assertiveness is an essential part of the role and that there's no need to apologise for taking control of a confused and sometimes frightening scene.
Given that HGV drivers use the motorway network to shift freight, and any delays cost their businesses money, does she find them more impatient?
"No, the opposite really," she says. "Often a driver will see what's going on ahead because their cab is so high and actually help us by blocking traffic trying to use a closed lane."
What would she say to any woman wanting a job like hers? "It's great, and you do get your hands dirty – literally. It's physical and you do get the odd bump or bruise but I'm happy with that. I love meeting people and getting that sense of satisfaction that you've helped," she says.
And it's not only people and vehicles: Emma and a colleague recently rescued seven ducklings on an all-lane running section and handed them over to a sanctuary after their mother was killed.
I've taken up enough of her precious time and she goes on code 2 which is back on patrol.
The National Highways website provides information on the work they do as well as travel updates and road safety advice.  https://nationalhighways.co.uk/our-work/.  If you're involved in managing staff who drive for work the National Highways' Driving for Better Business programme provides guidance on the role of employers and their drivers in helping to keep the network moving safely  https://www.drivingforbetterbusiness.com/.
Channel 5 has a new series of The Motorway starting Monday 9 May focusing on the daily work of traffic officers and going inside motorway control rooms.
https://www.channel5.com/show/the-motorway/season-2/09c9758c-938c-4f66-a898-0f6ad9a747c9
Media contact: Hadstrong https://hadstrong.com/ Becky Hadley on 07733 054839
About Driving for Better Business
Driving for work is one of the highest-risk activities that many employees undertake, whether they drive a commercial vehicle, a company car or make occasional work journeys in their own vehicle. As the gig economy continues to grow, this also means those who ride for work as well as those who drive.
Driving for Better Business is a free to access government-backed National Highways programme, delivered in partnership with RoadSafe, to help employers in the private and public sectors reduce work-related road risk, protecting staff who drive or ride for work, and others who they may share the road with.
Our mission is to improve the levels of compliance for all those who drive or ride for work by demonstrating the significant business benefits of managing work-related road risk more effectively.