National Highways is responsible for building, operating and maintaining England's motorways and major A-roads and is pursuing an ambitious net zero plan, including for its 1,300-vehicle fleet.
We spoke with National Fleet Manager Martin Edgecox who explained how the government owned company is combining sustainability with the organisation's need for resilience.
The fleet services many different aspects of National Highways' remit, including the 321 4x4s which allow traffic officers to clear roads rapidly and safely after incidents, and the large car fleet which enables its inspection teams to check every inch of its 4,300 miles of infrastructure.
75% of its fleet will be electric or hybrid by 2025
National Highways has pledged that 75% of its fleet will be electric or hybrid by 2025, and 100% of its car fleet by 2030. It has already shifted 60% of its vehicles to plug-in hybrid models. The electric motor is used for short burst driving, or access to and from the strategic road network, and the models recharge from regenerative braking, giving greater electric range.
The hybrids have a dramatic impact on the fleet's carbon emissions. Martin cites a comparison between a diesel Shogun, which would produce an average of 237g of carbon per km, and a plug-in hybrid Volvo, which would produce 48g/km.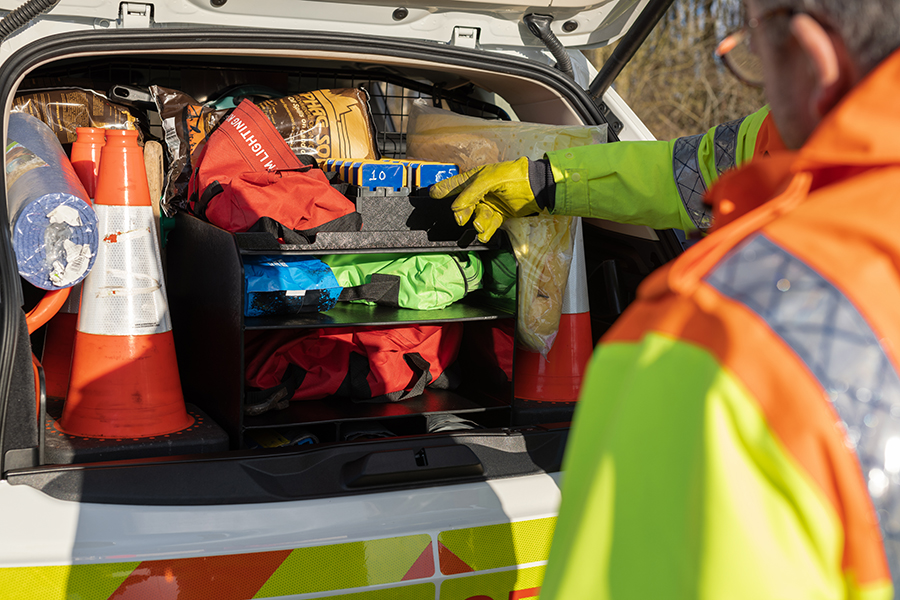 Pure electric options remain challenging for some applications. For instance, the traffic officer vehicles must each carry 600kg of equipment plus two adults. This means that range would be severely limited in a battery electric model.
The only element of the fleet which operates above the 3.5 tonne limit is the winter gritter fleet which are plated to 26 tonnes. No zero-emission model is currently viable, but Martin is exploring all options for lowering the HGVs' carbon footprint. Currently, he thinks hydrotreated vegetable oil (HVO) – a next gen biofuel – would be useful as it is completely compatible with the Euro 6 diesel engines, and can be used on its own or blended with diesel. HVO can cut carbon emissions from fuel by 90% and offers some operational benefits over fossil diesel as well, as it tends to keep engines cleaner and prolong the life of emissions control systems.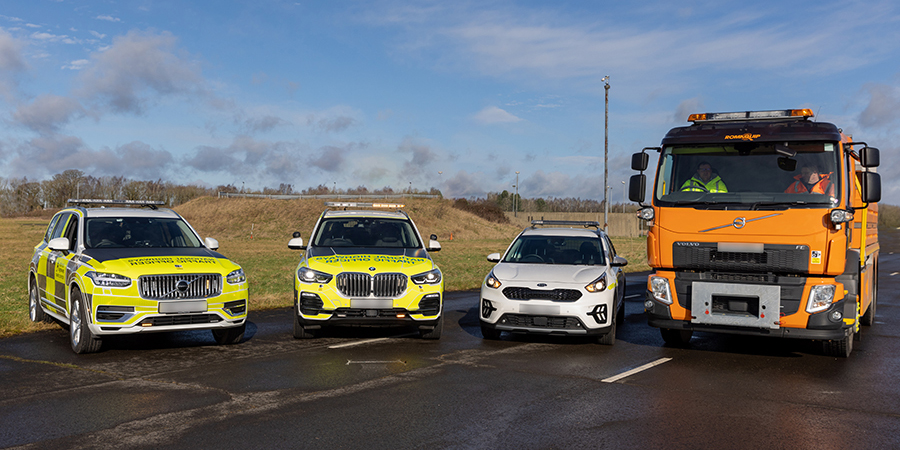 Fleet resilience
National Highways traffic officers and inspection fleets operate 24/7 365 days of the year. Furthermore the traffic officer fleet covers 1.5m miles a year. Therefore, fleet reliability is essential. Moving to plug in hybrids has actually improved the resilience of the fleet, says Martin, as using the electric motor decreases strain on the engine. Regenerative braking also tends to mean brake pads last longer.
"We've reduced vehicle off road days from three to two per year on the traffic officer fleet. That's the equivalent of three officer shifts saved," he says.
The inspection fleet has seen even greater improvement with off road days dropping from two per year to 0.8.

Better driving
NH monitors driver behaviour through in-vehicle telemetry, and Martin is currently determining new parameters for recording exception events. However, since the introduction of the first hybrid vehicles in 2019, he has observed a pattern of improvement which he believes is inspired by the new drivelines.
"Harsh braking, harsh acceleration and speeding have all diminished substantially," he says.
The vehicles are also kitted out with high-end safety equipment including radar guided cruise control, autonomous emergency braking systems, side impact protection and collapsible steering wheels. "We've chosen Volvos and BMWs, which are designed with safety as the number one priority, much like National Highways."
Conclusion – a more resilient fleet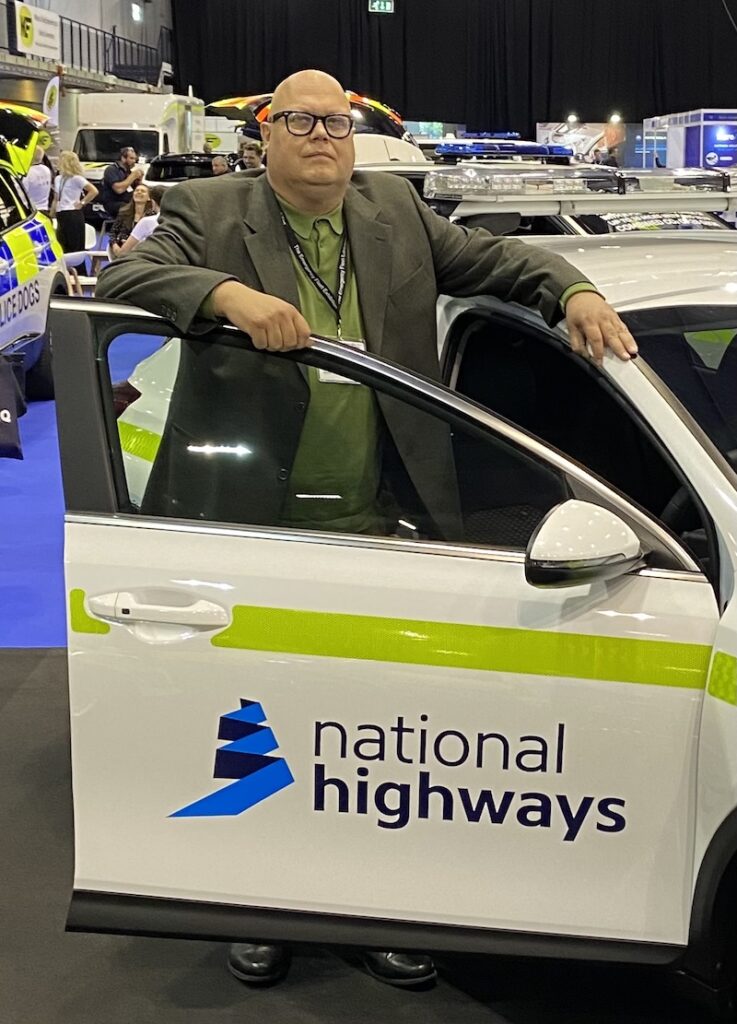 "This decarbonisation journey is very important to us because it links into the organisation's overall carbon strategy. However, it's also a chance for us to show how we are always improving what we do. Our fleet are the unsung heroes of the strategic road network, and we work extremely hard to make sure they can work efficiently, safely and reliably. Since we switched to hybrids we have definitely had a more resilient fleet, and that translates to better service."
– Martin Edgecox, National Fleet Manager, National Highways.