Leanne Player – Firefighter, Hereford and Worcester Fire and Rescue Service
Driving for work is one of the most dangerous things employees will do. Very few organisations can operate without using vehicles on the road. Effective management of work-related road safety helps reduce risk. The requirements for driver training and competence, vehicle roadworthiness and safety, and risk management are the same, regardless of how many vehicles are being driven for work and what they are being used for. Hereford and Worcester Fire and Rescue Service are no exception.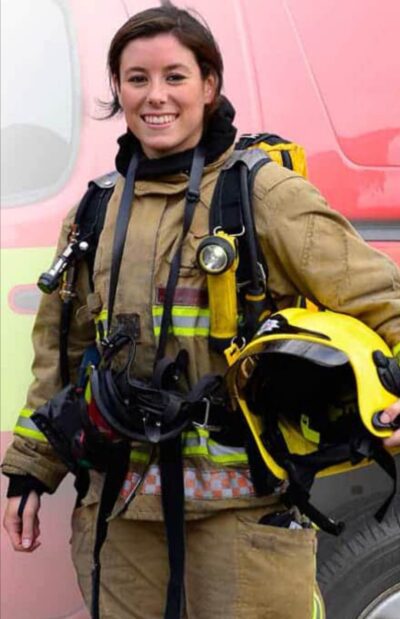 We talk with Leanne Player, a Firefighter with the Service who is also responsible for the safety of her crew while she drives the fire engine. As with everyone who drives for work, Leanne is responsible for ensuring she attends regular driver training and remains competent and confident with the vehicle she drives, and that it undergoes a thorough pre-use walk around check before use.
As well as supporting both rural and more urban communities Leanne undertakes a wide range of duties.
"As a fulltime Firefighter, we undertake a lot of duties that many people may not aware we do. We carry out school visits helping to educate children, we attend and engage with visitors at community events. It's important we build trust amongst the communities we serve. We complete a lot of fire safety visits with local businesses and complete our intel visits. This is where we'll visit locations and gather information about the layout of the building, the best access route to take, where we'd park the fire engines, where water sources are. It's so important that we know all as much as we can about locations before we respond to and arrive at a serious incident. I just love the buzz of turning in to a shout. Responding to a shout within 5 minutes in my local community provides a mixture of fear and excitement of the unknown. Without doubt, I will personally know many of those that we are going to help, and it is so satisfying to know that I can make a difference to those that live nearby".
35% of incidents involve vehicles
Covering an area close to 1,500 square miles and responding to over 6,500 incidents each year, more than 125 incidents every week, the 25 fire and rescue stations in Herefordshire and Worcestershire are kept busy. I am interested to know the type of incidents that Leanne and her watch get called out to.
"We respond to a wide variety of incidents, including property and countryside fires, road traffic collisions, collapsed structures, water rescues, hazardous materials, and animal rescues. People may be surprised to know that only 25% of the incidents we respond to are fire related. Approx. 35% of what we respond to now involve vehicles so our knowledge and understanding of current vehicle design and components is very important to us. With the increase of electric vehicles, it's essential we stay up to date and know about the associated risks and consequences".
"I've always loved driving and was overjoyed when I qualified to drive a fire engine. I successfully completed an intensive 5-day course to obtain the class C licence and then had to collect 30 hours of driving experience. I did this, supervised, when returning to the fire station from a shout, or driving to training, or school and community events. I then completed my Emergency Response Driver Training (ERDT) where we learn about roadcraft, pre-planning, anticipation of other road users whilst travelling to the emergency. I must refresh this ERDT training every 3 years. There is added responsibility when I driving to the emergency. I'm responsible for getting my vehicle and crew to where we are going safely. The last thing I want to do is have a breakdown, be the cause of another incident which delays us getting to the incident and results in another crew having to get called out. This just delays us helping those in need. I need to be task focused. We have a Drive to Arrive policy which we follow every time we respond to an incident. As the driver, I have specific tasks I need to do when we arrive. We have a Fending Off policy which I'm thinking about as I arrive. This is where I park the fire engine to ensure it is the safest and most appropriate place, and cone off the area to allow the crew to respond accordingly. It's also my job to be the pump operator. I'm responsible for providing the water and pump to the crew. I need to make sure there's enough water supply for them for the job we are at. I need to ensure the area is safe for my watch as well as anyone else on scene. It's important that my vehicle doesn't block any access for other emergency vehicles arriving on scene".
When I ask if anyone questions her driving ability as a female. Leanne laughs and says "I still smile when I see the shock and surprise on people's faces when they realise it's me driving the fire engine! I'm treated no differently to my male colleagues. I'm trained to the same standard and have the same job to do. They trust me to ensure we all arrive safely. We have to have that trust and mutual support and respect for each other. Being in the Fire and Rescue Service is like being part of a large family. We spend so much time together. Humour is just as important as empathy and understanding."
Biggest cause of road incidents – excess speed and drink/drug taking.
For Hereford and Worcester Fire and Rescue Service, one in eight road traffic collisions they attend involves a person being killed or seriously injured. These incidents are not only traumatic for the casualties and their families, but also for the firefighters and other emergency services who attend them.
"I still remember attending to my first road traffic collision", Leanne says. "It was gruesome and can still picture the scene. After a serious incident we often hold hot debriefs on scene with fellow emergency services as well as an opportunity to talk through the incident back on station with the help of our critical incident support team. We have all experienced the same thing and it's important we can share how we are feeling".
When I gently ask about the incidents involving vehicles, Leanne explains they are mostly caused by excess speed and drink/drug taking.
"Unfortunately, there are still many drivers who think they are invincible and don't take responsibility for their own actions. They think nothing will happen to them. If I could, I would remind every driver not to take risks and put their lives as well as the lives of others at risk. It is just not worth it. Drink and drugs don't mix with driving so don't do it. Know the speed limit for the road you are travelling on and stay within it, after all it's there for your safety. Also, don't drive tired and please drive according to the weather and road conditions".
Reacting to an emergency vehicle on the roads
What would you ask of the Driving for Better Business community, I ask Leanne.
"That's an easy one", she says. "Please know yourself, or make sure your drivers know, how to respond safely when they see an emergency vehicle with blue lights on in their rear-view mirror. Keep calm, look, and listen. Don't automatically slam your brakes on, especially on a blind bend, junction or on the brow of a hill. Also, please don't mount kerbs and pavements as this creates hazards for pedestrians. You'd be surprised how many drivers go into panic mode when they see blue lights and just stop. Believe it or not we even get some drivers who try to overtake us. It's much safer for everyone to carry on travelling until they can indicate and find a safe place to pull over with enough room for us to pass. I'll always give them a peep of the horn and a wave to say thank you as we pass them. Although I'm focussed on getting to where we are going as safely and quickly as I can, I'm always watching out and anticipating the actions and behaviours of other road users. Just be sensible and know what to do, after all you never know, one day it might be you that I'm trying to get to and help".
Great advice for us all.
Advice for drivers on how to respond when they see an emergency vehicle with blue lights, can be found on this short video