Sustainable mobility
Has COVID-19 accelerated the drive for sustainable mobility? Figures for the first half of 2020 show a marked decline in new car sales, which was to be expected during lockdown but, hidden in there, is an equally significant rise in the sales of battery electric and plug-in hybrid vehicles.
For June in particular, as we come out of lockdown and the car market tries to recover lost ground, the differential is even more stark with petrol and diesel sales combined down by 45.5% while EV sales combined are up over 74%. All types of EVs combined now have a market share 50% greater than conventional diesels.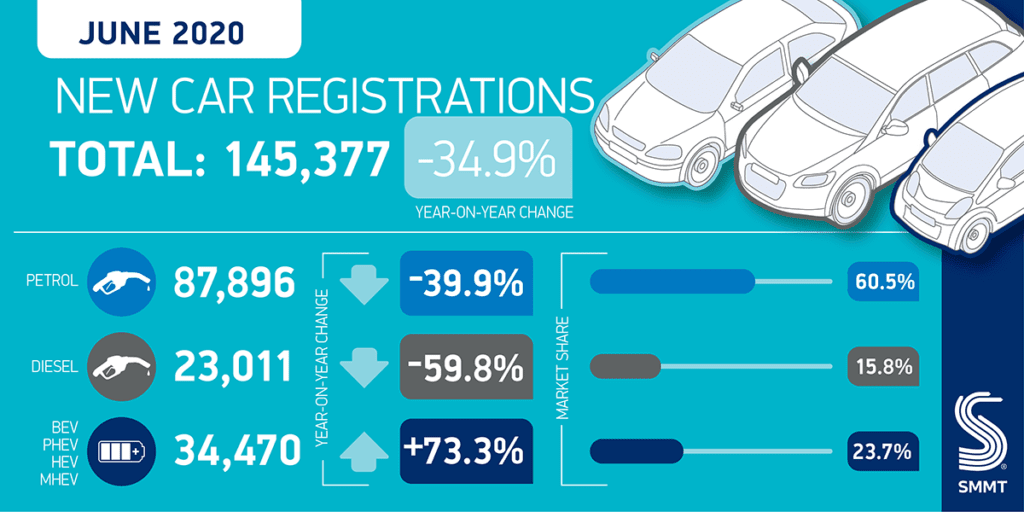 Hybrids – how are sales faring?
Sales of mild hybrids (MHEVs) and full hybrids (HEVs) are up, around 50% and 20% respectively compared to June last year, indicating intentional decision making in favour of greater fuel efficiency and reduced emissions. Sales of plug-in hybrids (PHEVs) at +117.0% over June 2019 and full battery-powered electric cars (BEVs) at an impressive +261.8% are up even more significantly, indicating a desire for the ability to travel with no exhaust emissions at all.
For more detail see SMMT New Car Registrations June 2020
A change in priorities?
What I think this shows is a major change in the priorities of user-choosers which could have an important impact on fleets. We know air quality has improved during lockdown so is this a consumer-led change to try and maintain that improvement? On the surface, this may be excellent news but it does come with some caveats.
Policy
Specifically for PHEVs and BEVs – are you including new information in your driving for work policies to take account of charging protocol and maintenance. Charging for PHEVs is important from a business finance point of view as, if not charged regularly, just driving round using the engine will cost the company more per mile than a conventional car due to the extra weight and servicing costs. Also, what does the driver do in an emergency such as of breakdown, or even a crash, where the electric powertrain could create additional risk for the driver and any incident responders.
Lifespan and Pricing
Conventionally powered company cars are normally priced monthly, based on anticipatedresidual value at the end of term, with the main drivers being length of term and mileage covered. But EV technology is new and evolving fast so what if mileage turns out to no longer be the primary factor. We could find that inconsistent charging practice and erratic driver behaviour turns out to have a more severe impact on the life of the battery and electric motors than total mileage, or even differences in average ambient temperature such as day/night or summer/winter use – all of which could have an impact on maintenance costs and residual values.
Whole Life Sustainability
EVs are more complex and energy intensive to produce, and make use of more exotic materials so, as firms increasingly need to calculate and publish their environmental impact, they need to look closely at the total lifetime mileage of the vehicle. Lower business mileage, as a result of post COVID working from home policies, could mean we are simply exchanging reduced usage emission savings for increased production and scrappage emissions. Another factor to consider is how clean the electricity is which is used to charge the vehicle? With petrol and diesels set to be banned from 2035, the increased appetite for BEVs is an important step in the journey, but firms need to be aware that some of the financial and safety consequences of this could require greater thought and preparation than they realise.