Decarbonising – net zero by 2035
John Lewis Partnership have recently announced their plan to decarbonise their vehicle fleet, with the aim to become fossil-fuel free by 2030 and net zero by 2035.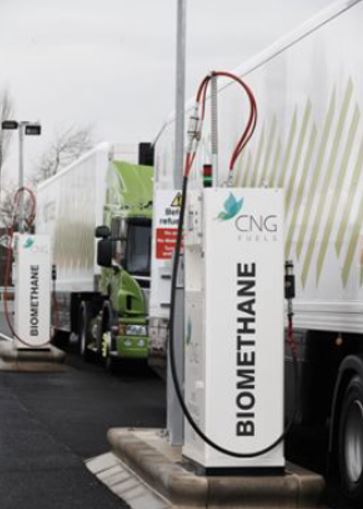 They are currently trialling electric vehicles in their eComm fleet and  Home Services team. They have 59% of their heavy trucks running on biomethane, and as part of the carbon reduction trials they are testing out a smart charging system to prioritise charging when the carbon intensity and price of electricity is lowest.
CO2 reduction – driver benefits
By taking these steps they hope to save over 500,000 tonnes of CO 2 equivalent through electrification and biomethane use. Importantly, there are benefits for drivers too, who enjoy the quieter, smoother electric vans & gas trucks, reporting they feel less fatigued compared to driving a diesel van or truck.
In December 2021, Waitrose made a significant investment in electric vehicles as part of its programme to replace eComm diesel vehicles. The St Katherine's Dock branch in central London became the first UK supermarket to trial a new generation of Vauxhall Vivaro-e electric delivery vehicles and introduced cutting-edge wireless charging technology.
All home deliveries serviced by the branch are now made using electric vans. The trial will test a technology which they believe has considerable potential to bring operational benefits, with wireless charging in particular expected to save time relative to a conventional electric vehicle.
Vans are fitted with a slim charging pad on the underside and top up by parking above an electric plate. They can also be plugged in to charge overnight. The technology links to a cloud-based smart charging system designed for home delivery operations.
Electric vehicles – fleet electrification
Previous experience of electric vehicles has highlighted challenges that a one size approach doesn't fit all in fleet electrification and a range of operational, site and vehicle requirements need to be balanced to arrive at effective strategies. This trial will inform the JLP wider electrification strategy by expanding their experience of:
● variation in electric vehicle range, and driver attitudes in an operational environment.
● effectiveness of energy- load management eg. smart changing, and the impact on store energy demand.
● electric vehicle charge scheduling and management integration into the existing transport planning systems.
● the practical aspects of deploying electric vehicle support infrastructure into stores and fulfilment centres.
● the merits of overnight wired charging relative to rapid high power wireless charging.
To complement these changes, the Partnership is currently working with Emsol under a Transport for London funded project to measure both noise and emission levels relating to delivery operations at one of its stores. As part of this trial regular alerts and reports are produced, highlighting where noise and
emission levels exceed set limits, allowing investigation and preventative measures to be actioned.
The desired outcomes are for the Partnership to better understand the elements contributing to these alerts and to minimise or prevent a recurrence through change.