Mobile tyre safety station – 28,000 vehicles and counting
National Highways launches its mobile tyre safety station which has now tested more than 28,000 vehicles.
Did you know that 20% of all breakdowns on the strategic road network (SRN) are caused by tyre failure? That's 50,000 tyre related breakdowns every year – and 30% of those involved commercial vehicles.
National Highways has worked with a tyre technology company to produce a solution for operators to improve their tyre management practice.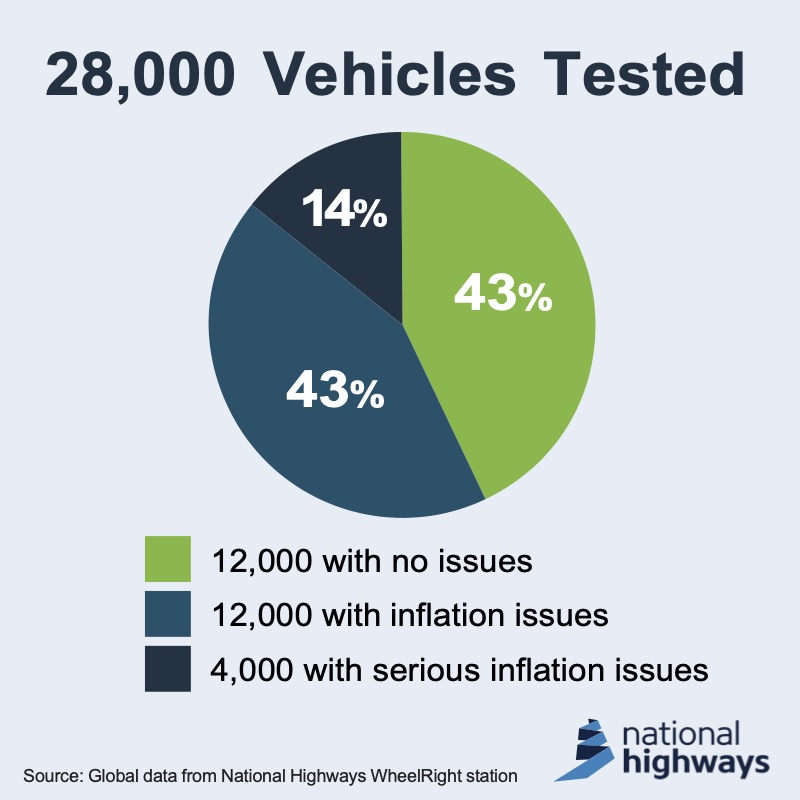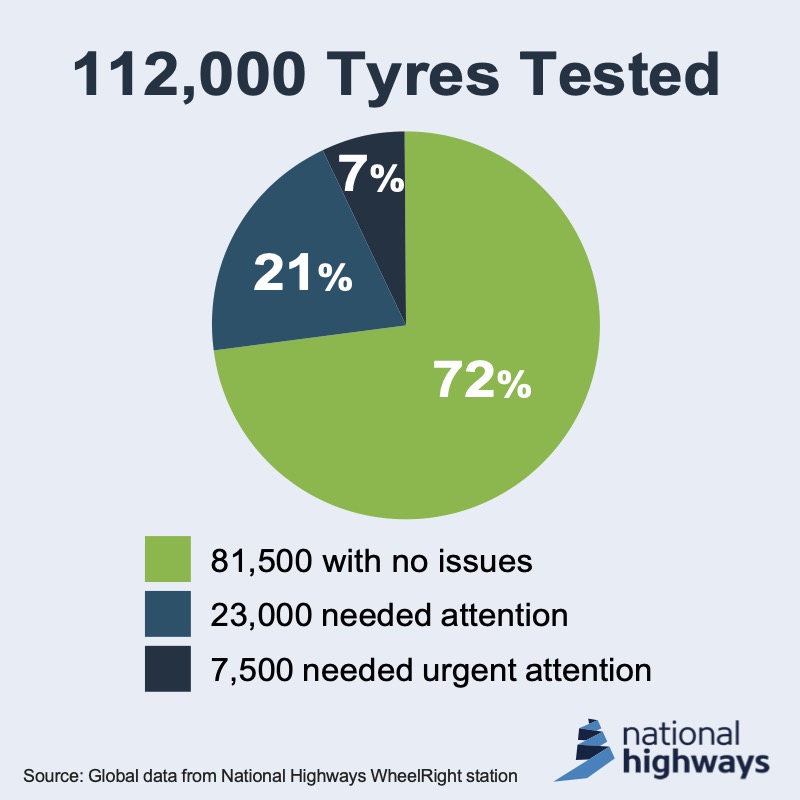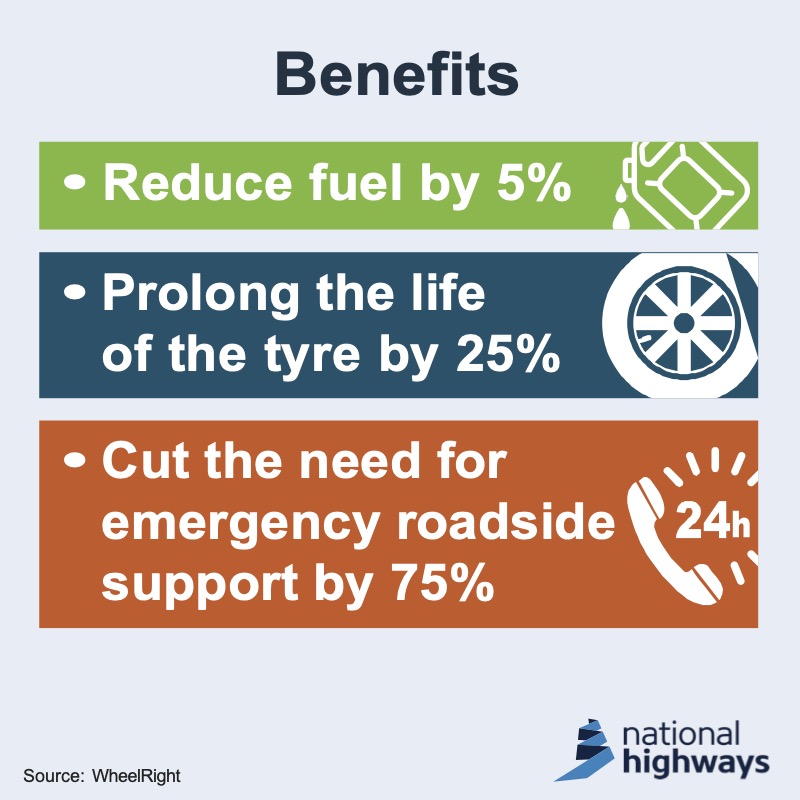 National Highways has analysed tyre breakdowns across the SRN and identified that one of the leading causes of tyre failure is under-inflation. Under-inflated tyres suffer greater friction, higher temperatures, sustain more structural damage and premature wear, and have a high risk of tread separation. The vehicle will also be less precise and requires a substantially greater stopping distance. Finally all that increased rolling resistance and friction uses more fuel.
Having piloted several fixed-location tyre management stations, National Highways invested in a mobile solution – the Mobile Tyre Safety Station – which it has been lending to operators of major fleets and many others.
The tyre technology is installed at any point in a site that vehicles must cross, such as entrances and exits. It combines sensors with vision technology and sophisticated software algorithms to read tyre pressure, tread depths and axle weight for vehicles up to 7.5t.  Any tyre pressure or tread depth reading outside safe operating parameters is immediately notified to the nominated transport manager so that the tyre can be rectified pre-use. Nothing needs to be attached to the vehicle or the tyres. The vehicles simply drive over the station and readings take less than 10 seconds. The station can inspect up to 1,000 vehicles a day.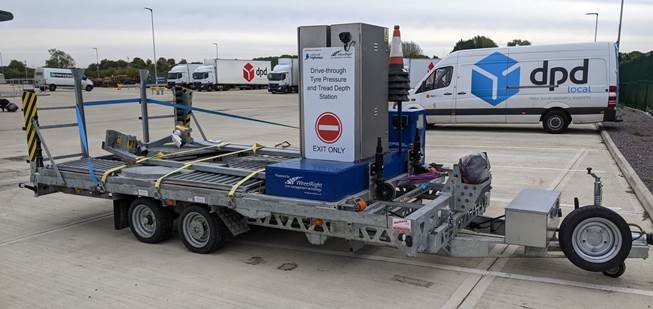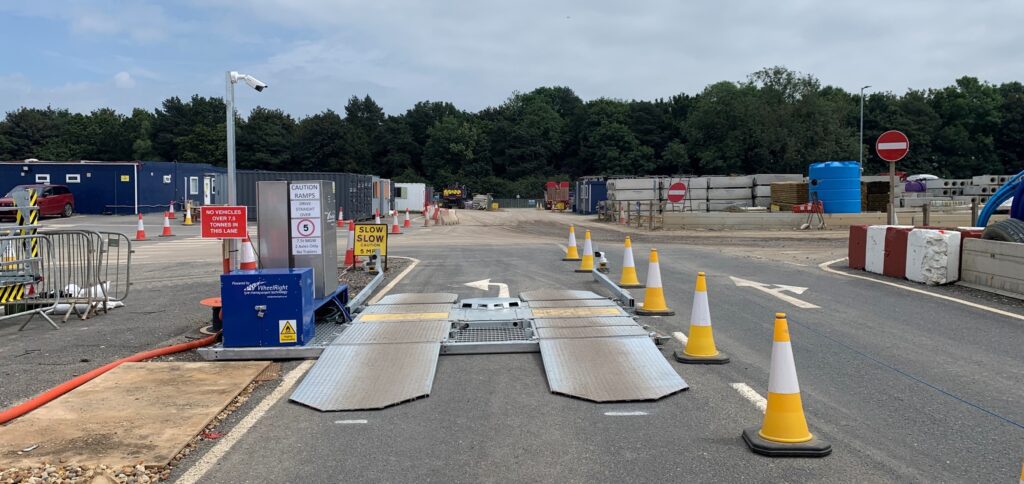 Even operators with robust tyre management policies have seen benefits. Assistant Project Manager at National Highways CV Incident Prevention Team Anthony Thorpe says "The mobile tyre safety station has now tested more than 28,000 vehicles, and 112,000 individual tyres. 12,000 of the vehicles inspected had a tyre inflation issue, with over 4,000 suffering severe under-inflation. 23,000 individual tyres needed attention, 7,500 urgent attention.
"All of the vehicles we have tested so far with the mobile technology product belong to operators with excellent tyre management policies," says Anthony. "However, it's clear that vehicles benefit from being checked day-by-day because tyre pressure can alter quickly between even frequent inspections."
This is crucial information for fleets because correct inflation and tyre management can:
Reduce fuel by 5%
Prolong the life of the tyre by 25%
Cut the need for emergency roadside support by 75%
Properly inflated tyres lessen the impact of commercial vehicles on the environment, through lower fuel use (and therefore lower emissions), less particulate pollution from tyres and brakes, less tyre debris from blow outs, and less landfill waste.
They also clearly have a substantial effect on lowering the risk of collision, and they save the operator money in fuel, repair, replacement and recovery costs.
"For depots to install the tyre technology is not an inconsiderable investment but it is extremely effective in identifying tyre safety issues and we encourage major fleets to consider this," says Anthony. "We think they would see huge benefits and a substantial return on investment. We have a long line of operators which have already requested the use of the mobile tyre safety station."
Learn more about the mobile tyre safety station and the importance of robust tyre management.