Protecting people is cultural
Paul Bowmaker is associate director for transport services at NHS Health Gateshead Foundation Trust. As such he is responsible for many kinds of health-oriented service delivery – so ensuring no one comes to harm on the roads is central to his fleet philosophy.
Paul oversees 120 vehicles including e-bikes, motorbikes, cars, vans and 18-tonne HGVs. These fleets respectively provide patient transport between hospitals, courier blood, collect and deliver pathology samples and distribute PPE to North-East hospitals, among many other vital services. The Trust also provides pathology transport for the Coventry and Warwickshire region.
Whether collecting diagnostic samples from 2,000 locations in the North-East, transporting patients or delivering life-saving blood supplies, Paul says his drivers are all first and foremost NHS staff.
This means they have a culture of caring, and patient welfare is at the heart of all they do.
"In terms of road safety this is vital," he says. "If we have a collision, patient samples would no longer be viable, diagnosis or treatment could be delayed. Whatever we are carrying represents someone's well-being."
'First do no harm' is therefore a crucial principle for his NHS drivers, as well as the doctors and nurses they support. Furthermore, he says, the NHS has the most famous brand in the country, and his vehicles are public assets. Exemplary performance is essential.
"Safety is about managing people"
The whole team and all the vehicles are managed in accordance with stringent HGV regulation. Whenever possible, Paul's teams and shift patterns are organised to ensure regular breaks for drivers, monitored by an electronic biometric clock-in system. TachoMaster monitors driving hours, and all samples and vehicle movements are tracked and logged.
All vehicles are treated as HGVs would be with daily walk round checks, and six weekly inspections. Every driver has 15 minutes at the start of the shift to thoroughly check the vehicle, and if a safety-critical defect is identified, they will be given a contingency vehicle while theirs is fixed.
Driver 'roadworthiness' is also monitored with an emphasis on health and welfare. Paul uses mental health resources provided by National Highways.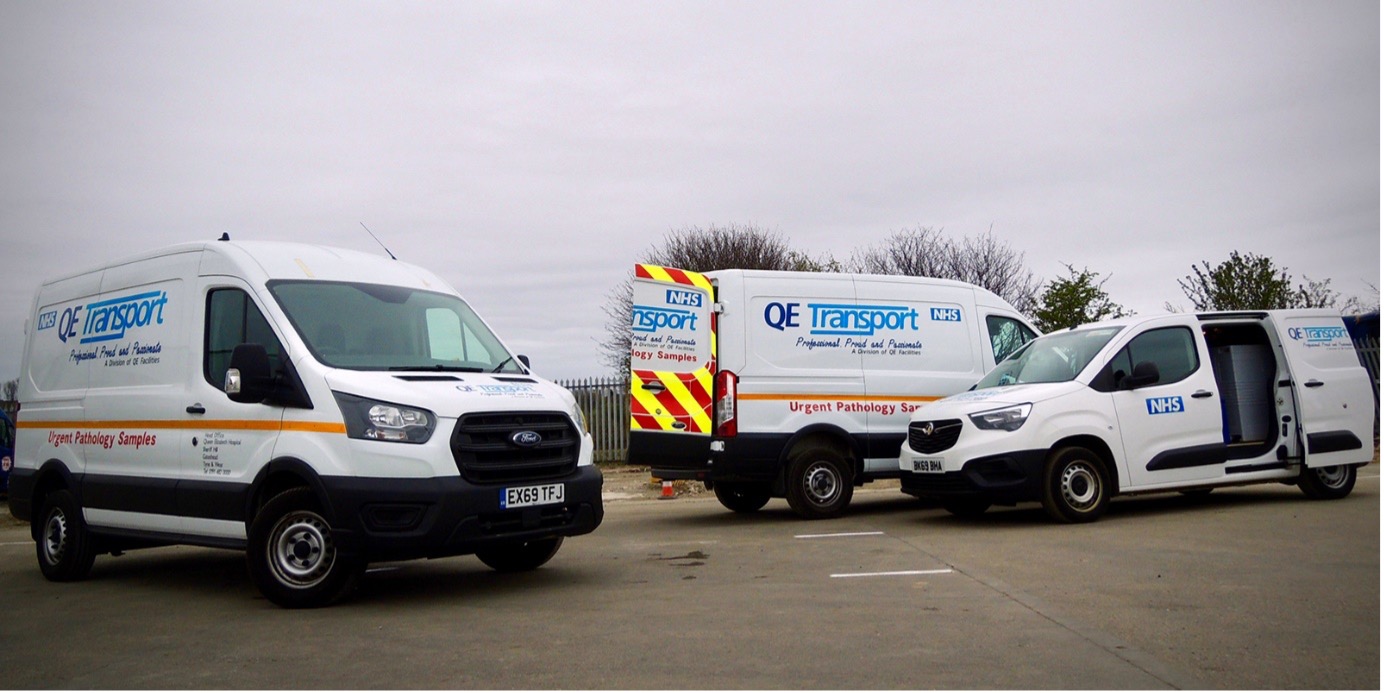 Extensive training
Every employee has a three-day induction. The over-arching message also underpins everything they will go on to do:
"You work for the NHS. People's lives are in your hands."
Paul's teams are covered by various levels of emergency driver qualification. Every driver is fully assessed by a qualified instructor and any driver who will transport people must pass the advanced MIDAS test.
Ambulance or urgent transport drivers then take their gold standard advanced driving test, which is a necessary precursor to 'blue light' training.
Every driver is recertified every three years. However, if a driver has more than one incident, however minor, in between, their training is refreshed and they are re-certified.
Challenging conditions
Paul's team can fulfil 'Class 2' consultant requests for urgent transport. If necessary, they can drive on the wrong side of the road or ignore lights to reach their destination faster, but hey cannot break the speed limit.
However, often, the frustration for urgent transport drivers is the inability to achieve anything like the speed limit due to congestion.
Paul says the key to ensuring road safety in difficult or challenging conditions is to empower people. "Our drivers are uniformed, badged, and professional drivers. They know they represent the NHS. Our service is about care and quality, not speed.
"Urgent transport drivers are empowered to do their jobs, and we encourage them to take ownership of their decisions and actions. They understand the importance of what they do, and the care they must exercise while doing it."
In the public eye
Being an NHS fleet has benefits. Paul hasn't had to advertise for drivers for three years, as many people want to work for the NHS.
However, it also means being completely accountable, in terms of behaviour, finance and patient care. Complaints against drivers would go to patient services and through a rigorous process of investigation.
The organisation is also audited by several public bodies including the NHS itself, the Care Quality Commission, the National Comparative Audit of Blood Transfusion, among others. Quality and transparency must be employed at every level.
Culture all the way
Paul says that culture is at the heart of all safety management.
"We attract people who are empathetic and understand the concept and practice of caring for others. Everything we do is about patient welfare. Everyone, including us, will one day be the beneficiary of that care."
For his drivers, that means ensuring that their precious cargo is always delivered safely, and that other road users' well-being is not endangered by NHS work.