Collision Avoidance – new safety ratings
On 1 March, Euro NCAP and Thatcham Research released updated ratings for 18 best-selling commercial vans.
There are now some 5 million vans on UK roads – they are the most popular class of commercial vehicle. Vans are also involved in more fatal collisions that affect other road users per mile travelled than any other type of vehicle.
Vans – reducing the risks
To reduce the threat that vans pose to other road users, tough new ratings give a weighted focus on the 'active' crash avoidance systems on vans – systems that help to avoid or reduce the severity of crashes. In 2019, just 12.8% of new vans registered had autonomous emergency braking as standard, compared with 62% of new cars.
Euro NCAP conducts a series of annual ADAS tests on the bestselling commercial vans in the European market. Combined, these vans cover about 98 percent of the new van sales, to influence purchasing decisions for safer van choices. It then gives weighted scores and a scale of safety classifications: Platinum, Gold, Bronze and 'Not Recommended'.
This year, the new ratings raise the bar on safety standards: a van that two years ago had a gold rating and a performance score of 80 may now be rated silver and have slipped to a score of 60.
Van safety ratings – how it works
The information sheet from Euro NCAP explains its weighting and scoring system. It shows that not one of the 18 vans have basic auto-braking systems fitted as standard that would help prevent a crash with another vehicle (a weighting of 30%), a cyclist or a pedestrian (both respectively weighted at 10%). Just five of them offer an option of technology that protects cyclists, and it is unavailable on the other 13.
Overall, with the new, tougher scores, just two of the 18 vans achieve a gold rating; six are silver; nine are bronze and one 'not recommended'. None as yet have a platinum score.
There is a still a lack of parity between the collision avoidance technology on vans compared with cars – even when the manufacturer has based the van design on one of its car models. Where it is an optional extra, the take up on safety tech has been poor.
New EU legislation will require these systems to be fitted into new registrations from 2024. The UK has not yet signed up to this legislation.
Driving for Better Business is sharing this information with its stakeholders and fleet buyers so they can make informed decisions. Vans are now the most popular class of commercial vehicle
Collision avoidance – safety technologies
According to Thatcham Research, when one of the millions of vans on UK roads is involved in a collision, impact severity tends to be higher than that of a passenger vehicle, which is why Euro NCAP's rating is focused on the performance of safety technologies that avoid or mitigate crashes.
But it's clear from this table that the fitment of crash avoidance technology currently seen on vans has some way to go before gaining parity with the high levels of standard fitment we enjoy on cars today.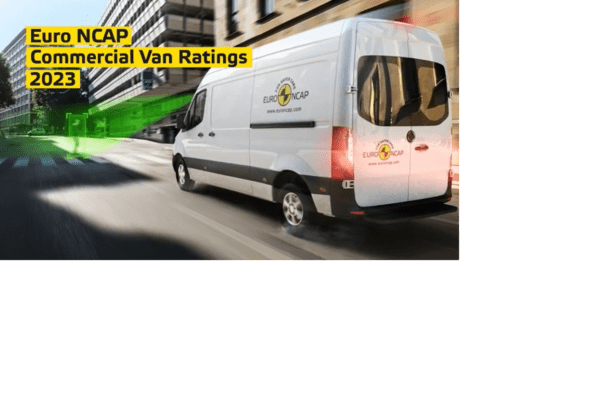 Watch the video – Euro NCAP Commercial Van Ratings 2023