Warwickshire Road Safety Partnership is partnering with Driving for Better Business (DfBB) to promote the free scheme to businesses across Warwickshire who have employees who drive for work. The new initiative was announced during the NPCC National Commercial Vehicle Campaign that starts this week 11 – 24 July 2022.
The DfBB programme supports Warwickshire Police and partners to provide essential tools, information and resources to local businesses with staff who drive for work to help improve their safety and the safety of other road users on Warwickshire's roads.
WRSP is encouraging businesses who employ drivers to sign up to DfBB as soon as possible.
Driving is the most dangerous work activity that most people do and as well as helping improve driver safety, the programme includes essential information and legislation that commercial drivers should know, from driver hours and weight limits, to vehicle roadworthiness.
Engaging with commercial drivers in Warwickshire
Warwickshire Police will be promoting DfBB by handing out cards during multi agency operations to inform commercial drivers of their responsibilities and to pass on to their fleet managers to raise awareness of the scheme. Warwickshire Road Safety Education team will also be promoting the scheme as part of their safe and active travel offering to the workplace and information packs will be handed to businesses by Warwickshire Fire and Rescue colleagues when they complete fire prevention visits.
All the DfBB resources are free to access and distribute via the Warwickshire Road Safety Partnership page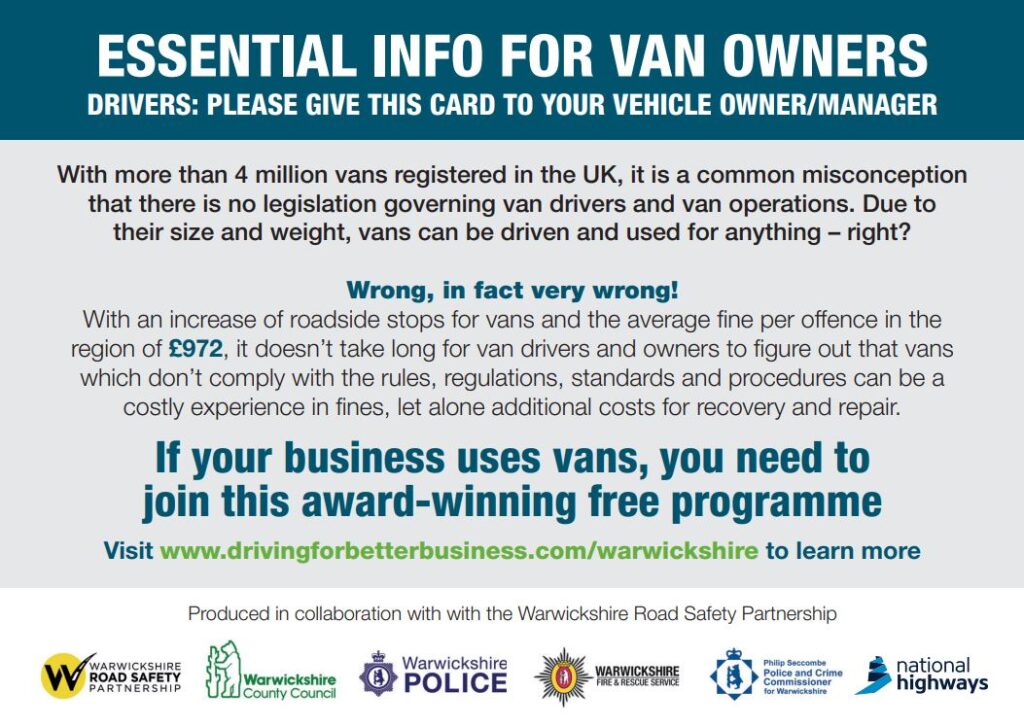 Improving compliance to reduce road risk
Simon Turner of DfBB said "The Driving for Better Business mission is to improve the levels of compliance for all those who drive or ride for work by demonstrating the significant business benefits of managing work-related road risk more effectively. We already have thousands of businesses signed up across the country and we welcome the partnership with WRSP to help support employers throughout Warwickshire."
Warwickshire Police Inspector Jeremy Mountford said  "We encourage all fleet managers to sign up to the Driving for Better Business Warwickshire programme. You'll be helping to protect your employees and make our county's roads safer. This programme is a great free way for businesses to reduce risk, improve driver safety, wellbeing and behaviour, and check your driving for work policies are compliant."
"Whilst Warwickshire Police always chooses to educate first where appropriate we have a responsibility to all road users and we are carrying out regular commercial vehicle operations to ensure commercial drivers and commercial vehicles are operating safely and legally."
Reducing road risk – safer roads in Warwickshire
Philip Seccombe, Police and Crime Commissioner and Chair of the Warwickshire Road Safety Partnership, said: "Warwickshire Road Safety Partnership has an ambitious but achievable goal of reducing the number of people who are killed or seriously injured on our roads by 50% by 2030.  It does however require everyone to play their part, including the many businesses whose employees use our highway network for work. The Driving for Better Business Warwickshire programme is a key component to ending the heartache and misery that road deaths and serious injury bring.  That's why I'm encouraging all businesses in Warwickshire with commercial drivers to sign up to the free scheme to help protect their staff and in turn all other road users."
Throughout the commercial vehicle campaign, police and partners will be sharing road safety information and advice on topics for commercial drivers on social media. This will include information on the benefits of regular vehicle walk around checks to spot construction and use issues such as illegal tyres, indicators not working and to assess the general condition of the vehicle.  We will also be asking drivers to ensure their vehicle is not overweight and providing information on driver hours, mobile phone and seatbelt legislation.
You can follow the campaign on Twitter @WarksRoadSafety and on Facebook @WarwickshireRoadSafety