Van Safety – how do you know?
Van Safety – here's a fact for you. Vans and LCVs are involved in more incidents resulting in the deaths of other road users than any other vehicle type per mile travelled. It's a shocking statistic, and when it comes to thinking about van safety, one which fleet managers and transport managers might not be fully aware of.
UK van sales have risen sharply with a 26% increase in LCVs compared to a 6% rise in sales of new cars, according to DVLA sales data for Sept 2020 to Sept 2021. It follows then that employers of those who drive for work should have detail and clarity on the safety aspects of a vehicle when they make choices on which vans and LCVs they will be running in their organisation – shouldn't they?
It's not always easy to sort through the marketing and sales blurb from van manufacturers when you are interested in knowing what level of safety you will have. Similarly, it's not always straightforward when it comes to understanding which of the current safety technologies you can expect to have in the van you are buying, either as standard or as an option.
There are huge implications in terms of your drivers' safety as well as those of other road users. The potential for reputational damage in these days of social media, with photos on Facebook, Twitter and Instagram showing signwritten vans involved in road incidents is one that every business owner and manager has to be aware of – and avoid.
But how do fleet managers know which vans offer the best safety options?  The world's only Commercial Van Safety Rating programme, administered by vehicle safety experts at Euro NCAP and Thatcham Research has just announced their latest findings. We talk to Matthew Avery, Chief Research Strategy Officer at Thatcham for this month's Driving for Better Business podcast, to find out which vans are achieving the highest ratings and which are not recommended – and it makes for interesting listening.
FIAT Ducato – world-first Platinum van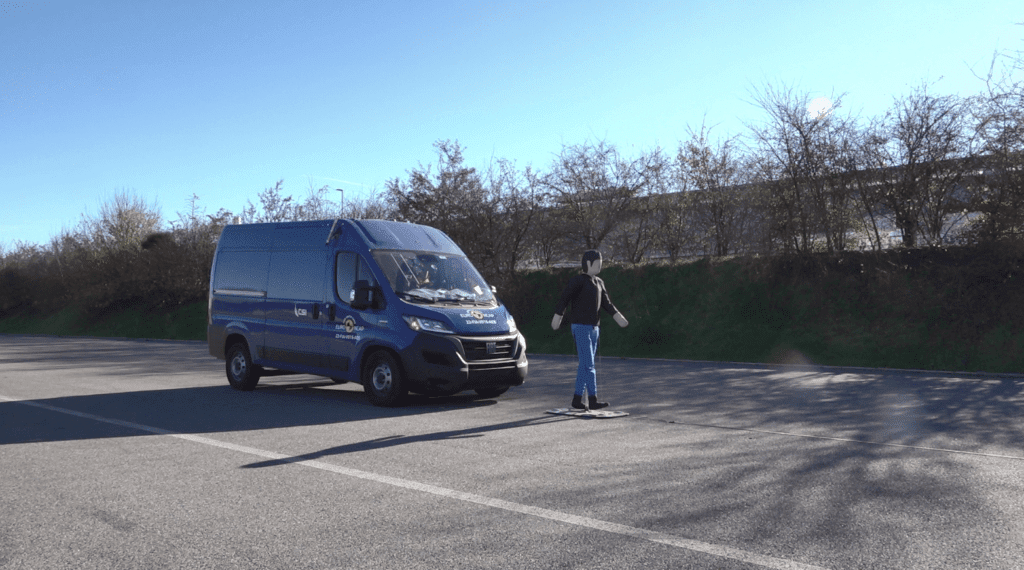 Results from the Commercial Van Safety Rating programme showed that some manufacturers have reacted positively to calls for improved van safety.
Renault, Vauxhall and Ford acheived higher ratings this year with the addition of safety equipment options such as AEB and lane support technology.
However, the star of the show was Fiat – in 2021 the Fiat Ducato secured a Bronze rating, with a score of 28%. In the latest ratings it has increased that score to 88% – ensuring its status as the first van to ever receive a Platinum rating.
This increase of 60% year on year was due to the performance of its AEB (assisted emergency braking) and speed assistance systems, as well as its improved lane support capability, with the addition of Lane Keep Assist (LKA) which helps steer the van back into its lane.
The Renault Trafic and Vauxhall Movano also recorded significant score improvements. The Trafic, which was Not Recommended in 2021, improved its score by 34% this year, due to the addition of AEB and lane support technology. This earned it a Silver rating. The Movano meanwhile, increased its score from 7% to 33%, elevating it from Not Recommended to Bronze.
You can hear more on how various vans were rated – and how your own vans performed – in the February podcast.
ADAS – saving money, saving lives
Advanced Driver Assistance Systems (or ADAS for short) are our focus at the Driving for Better Business programme this month. ADAS covers all the collision avoidance systems and driver assistance technology that can help prevent a collision or minimise the severity in the event that the incident can't be avoided altogether. ADAS technology is proven to reduce collisions and costs for fleet managers. For example,  when fitted to cars, AEB has been proven to reduce rear-end collisions by up to 38% and third-party claims by up to 45%.
The benefits to fleets are clear – less time off road for vans and LCVs involved in collisions, lower repair costs,  improved driver safety and less risk of reputational damage. Of course, as Matthew points out in the podcast, there is also the opportunity to talk to fleet insurers about a reduction in insurance premiums if your vehicles have this safety technology fitted.
These latest ratings announced by the Commercial Van Safety Rating programme prove that the need for safety options is being recognised by some manufacturers, but there's still a long way to go. The 'not recommended' rating for Nissan's Interstar (formerly the brand's NV400 model) proves that.
As Matthew Avery points out in our podcast, fleet managers and operators have the chance to influence the conversation, and to insist on safety-critical options, by taking their business to manufacturers who have risen to the challenge.
"The message to fleet operators is you can't afford to have your vehicles off the road, not earning money – even after a minor collision they could be off the road being repaired. There are the potential injuries to your drivers – and think about your brand reputation as well. Nobody wants to see a signwritten van involved in a collision on Facebook or Twitter. So, there are lots of reason why you should be buying a van with this safety equipment.
I think that a fleet manager making the point that 'we've decided on these new vans for our fleets because they tick all the boxes – because we want a safe fleet' – that's making a very important statement.
Our ratings make the choice clear – buy this van with this equipment and you've got the safest van on the market."